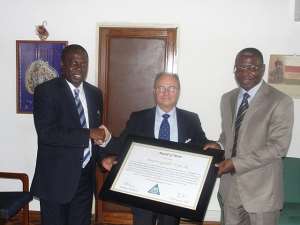 Accra, Aug. 29, GNA - The Volta River Authority (VRA) has commended the Government and people of Italy, and contractors and consultants who were instrumental in the construction of the Akosombo and Kpong Dams.
The Italian Ambassador to Ghana, Tullio Guma, was given an Award of Merit for the Government of Italy as part of activities to commemorate the 50th Anniversary of VRA, according to a statement issued by VRA in Accra on Monday.
A citation said the Management and staff of VRA "applaud you for encouraging your worthy nationals as represented by IMPREGILO-RECCI and SALDAMI who have created in Ghana an enduring and monumental engineering masterpiece, the Akosombo Dam, symbol of international co-operation and of a North-South partnership".
It added: "True to the cherished tradition of the ancient Romans, the Italian contractors have left in Ghana an exquisite structure and a monument of grandeur. We at VRA are proud to honour you today."
The statement said IMPREGILO-RECCI, an Italian consortium, won the contract and undertook dredging of the river bed, dewatering of the east channel and constructed the dam one month ahead of schedule in spite of the highest recorded flood in the history of the Volta River in 1963 which set work back by over three months.
It said in appreciation of this feat, an Award of Merit was presented to the company as VRA celebrated its 50th anniversary.
The citation further read: "We, Management and staff of this Authority, applaud IMPREGILO, the construction consortium which built the dam at a cost nearly 20 per cent under the Engineers' estimate and despite novel challenges and unexpected odds were able to complete construction of the dam and power complex in a record time.
"The firm came to Ghana with a brilliant record of major dam constructions in Europe, Asia and Latin America and being a giant in that field, you have produced a work to flatter human ingenuity and creativity."
The statement said other projects undertaken by Italian contractors were construction of the New Obuasi, Tarkwa, Cape Coast and New Tafo substations by Saldemi-Cogepi.
ItalConsult was also awarded the contract for the feasibility studies and design of extension of grid to Brong-Ahafo, Northern and Upper Regions in 1981.
The Kpong Dam project was also built by Impregilo-Recchi and Saldemi-Cogepi, of Italy.
GNA