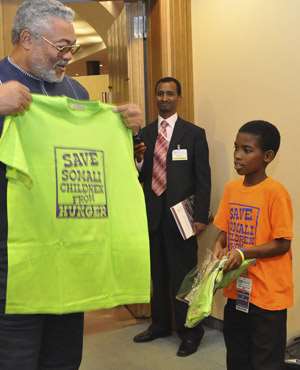 26TH August 2011 - Addis Ababa - Amidst the millions of dollars pledged at an African fundraiser Thursday to help those facing starvation in the Horn of Africa, one donation stood out: the $4 000 contribution of a Ghanaian schoolboy.
Eleven-year-old Andrew Adansi launched his fundraising campaign after seeing television images of those struggling in famine-struck Somalia.
"I am feeling happy because I touched the hearts of the young and old, rich and poor," Adansi said in his address in Addis Ababa, thanking companies and friends in Ghana who donated to his cause.
The schoolboy's contribution, double what the African nation of Lesotho pledged, added to over $350 million raised during an African donor conference here to help more than 12 million people reeling from severe drought.
"I saw a BBC documentary about Somalia and I looked to my father and asked why they are so lean and hungry like that," he told the media. "I thought, I should help them," said Adansi, wearing a T-shirt with the slogan "Save Somali children from hunger".
Initially, he wanted to send bags of maize, but aid workers in Ghana persuaded him that sending money would be easier.
"My target is $13 million, but I have raised now $4,000," said Adansi who travelled to the Ethiopian capital with his team to take part in the AU Pledging Conference founded by African Union and UNICEF and Ghana's Foreign Affairs.
Worst of the century: He said he hoped the money will go toward buying maize, rice, sugar beans and to support education and health in Somalia.
The Horn of Africa is suffering its worst drought in decades which, combined with conflict and resource mismanagement in Somalia, has led to what the UN describes as the world's worst unfolding humanitarian disaster.
The fund-raising conference was the first of its kind by the pan-African body, which has so far pledged only $500 000 of the needed $2.4bn to assist the 12.4 million drought victims. Meanwhile, Ghana pledged $ 500 000 for their support for Somalia. 13 children die each day the UN has said.
For the first time this century, the United Nations has declared a state of famine in five Somali regions and said it could spread to engulf the country's entire south. The drought has also left millions in parts of Ethiopia, Djibouti, Kenya and Uganda facing starvation.
Signed
Kobla Asamani
Technical Directing Advisor
Phone: 00251114674000 ext 703