$3bn Chinese loan still on hold as Minority demands details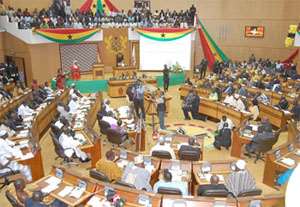 Parliament house
Parliament has once again postponed debate on the three billion dollar Chinese loan agreement.
The report on the facility from the China Development Fund could not be laid because the Joint Committee on Finance and Poverty Reduction which examined the agreement was unable to conclude its work.
Joy FM's Parliamentary Correspondent Sammy Darko reported that the MPs are asking for more time because the document covering the agreement is voluminous.
The Minority which has already objected to the deal is yet to officially state why.
Sammy Darko who has been interacting with the MPs however says they are basing their objection on two main points.
According to him, some of the MPs say the agreement is lacking in detail and appears to be an attempt by government to seek a blanket approval to spend the $3 billion as it pleases.
The $3 billion is going to come in two tranches - first, $1.5 billion and the remaining half coming later.
It is the Minority's contention that although the agreement has stated 12 projects into which the money would go, there is no specificity regarding how much is going into which project.
They also argue that one of the conditions of the agreement is that the Chinese will get exclusive access to the country's crude oil but the actual volumes they are entitled to and at what price the nation will sell the oil to the Chinese have not been clearly stated.
The Chairman of the Finance Committee, James Avedzi, while saying the concerns of the Minority are not being ignored, maintained that some of their arguments are unsustainable.
'When Parliament approves this $3 billion facility, since the individual projects are not yet before the House, anytime they conclude work on the individual projects, they must come back to the House for members to approve,' he said.
Responding to the Minority's concerns about the quantum of oil the Chinese are entitled to, Mr Avedzi said, 'If already we are getting people willing to buy the oil we should be happy.'
The concern, he said, should rather be to ensure that the price at which the product is sold is not to the disadvantage of the nation.
'We should not be concerned that we have people ready to buy [our] oil; we have the oil which we are selling and we are getting ready market and we are crying foul? Let's give a break to what is happening this country,!' he snapped.
Source: Myjoyonline