Gabby: I can't trust Parliament on $3 billion Chinese loan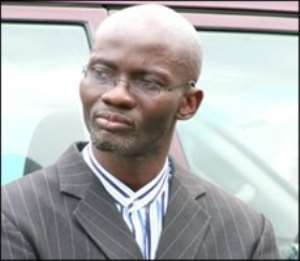 Gabby Asare Otchere Darko
The Executive Director of the Danquah Institute says Ghana's return to the Highly Indebted Poor Country portfolio is imminent if the country's Parliament recklessly approves a $3 billion loan facility from the Chinese Development Bank which is currently before it.
Gabby Asare Otchere Darko told Joy News the agreement is imprudent and has not thoroughly been thought through.
A statement from the Information Ministry and signed by one of its deputies, Samuel Okudzeto Ablakwa outlined the projects the $3 billion loan facility will be used to execute as follows; "the Western Corridor Gas Infrastructure Project, Western Corridor 'Petroleum Terminal' Project, Western Corridor 'Oil Enclave' Toll Road Project, Western Corridor Railway Line Modernization Project- Takoradi-Kumasi, Dunkwa-Awaso Railway Line, Retrofit Phase 1, Western Corridor Infrastructure Renewal project- Takoradi Port Retrofit Phase 1, Sekondi Free Zone Project- Shared Infrastructure, Utility Services and Accra Plains Irrigation Project.
"The rest are: Coastal Fishing Harbours and Landing Sites Re-development Project (Axim, Dixcove, Elmina, Winneba, Mumford, Senya-Beraku, Jamestown, Teshie, Tema, Ada, Keta), Eastern Corridor Multi-Modal Transportation Project- Upgrade of Volta Lake Ferries, Pontoons + Landing sites (Kpando-Amankwakrom; Kete Krachi-Kwadokrom; Yeji-Makongo; Tapa Abotoase; Dzemeni), Upgrade of Akosombo and Buipe Ports, Accra Metropolitan Area ICT- Enhanced Traffic Management Project (including urgent road completion components) and SME Projects Incubation Facility."
The Deputy Information Minister later Monday afternoon in an interview with Joy News was highly optimistic the loan facility will see to a successful execution of the better Ghana agenda of the government.
But the Executive Director of the Danquah Institute has directly opposite convictions. He told Joy News' Dzifah Bampoh the loan facility may just lead the country back into HIPC.
"In December 31st, 2008, Ghana's total external debt was $4 billion. This single loan alone and its repayment term will take us to $4.2 billion. So if there is such a facility before us, we should look at it and make sure that it is indeed value for money else we will risk returning to HIPC."
Gabby said the agreement lacks thorough scrutiny with some of the prices of the projects highly inflated.
He was even more intrigued about the $3 billion loan facility contained in its estimates for the execution and completion of the Achimota-Ofankor road, Tetteh Quarshi- Haatso projects which government claims to have already secured funds for.
"Was it not these same projects that a few weeks ago we were told we have raised 400 and something million cedis for; but in this $3 billion facility there is an estimated amount of $150-200 million. They don't even know the actual amount involved," he lamented.
Meanwhile, deep cracks are said to be emerging at the committee level in Parliament where the agreement is being scrutinized with the minority and majority said to have taken entrenched partisan positions.

Gabby chided government for lumping different projects together in order to access the loan facility and yet have provided no relevant financial details and propriety of the projects.
He said the loan is a purely commercial loan without any concessions at all to the Ghana government. If anything, it is Ghana who is making concessions by using our oil resources as collateral, he added.
The Chinese, he said, are bringing down their own contractors, and laborers and are asking a direct access to Ghana's oil, something Parliament and country must be very concerned about.
He was however quick to doubt the competence of Parliament to thoroughly scrutinize the facility.
"I have very limited confidence in the capacity and ability of our Parliament to do one of their most important constitutional duties which is financial scrutiny of bills before them.
"To be honest with you I have very little confidence in them and we saw that in the STX and with seen it with other projects as well even before this government," he noted.

Story by Nathan Gadugah/Myjoyonline.com/Ghana