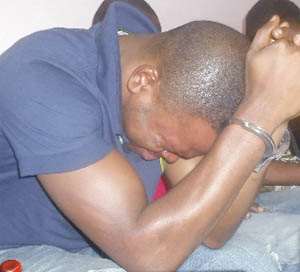 SHAME! Weeping Daniel Obinim handcuffed
Reactions on Bishop Obinim's love affairs, some of which have been secretly recorded on a tape, transcribed and reproduced in the Daily Guide of August 15, 2011 (only last Monday) have expressed shock, dismay and condemnations of a man who claims to be a bishop of a church he has founded.
I myself read and reread the whole story entitled 'The Obinim Love Tape' published on page 7 of this newspaper early this week, and I unconsciously shouted: 'Oh, Obinim, is that what you are?'
Definitely, the whole story is a disgrace, a very big disgrace to Obinim who has won national and international acclaim and respect for his 'healings' and 'miracles'. I have written or referred to his 'healings' and 'miracles' in apostrophe or quotation marks to shed light on the fact that the two friends of mine, one a bishop of a church and the other a good friend of mine in Takoradi who rang me, have both denounced those wonders shown by Obinim, describing them as full of tricks, and not genuine Charismatic healings and miracles. I shall come back to this new argument very soon. Meanwhile, let me hover around the 'Love Tape' issue, and discuss rather briefly, four interesting and rather startling and disgraceful elements of it so that we pastors can be reminded of Christ's words that 'there is nothing hidden that shall not be made known' (Matthew 10:26). Let me stress that there is not a single word of Christ which will not practicalise in this world. This means that whatever we do in secret shall be worked on by the power of Jesus or angels to be exposed to the world.
The four distressing points which I cite for discussions are: Obinim's flirtations with other girls; his negative description of his own wife's sexual organ; his sex with Gifty Pokua, the day before her wedding and even during her pregnancy; and his description of Willie Fobi (Gifty's husband) as a person with low sperm counts. When Obinim's adultery with Gifty Pokua (who is also wedded to Obinim's own junior pastor) came to light recently, most of us his one-time admirers were thinking that it was to be forgiven by the society since it was only a one-day affair with only one lady. But later revelations by Gifty Pokua (Obinim's wedded girl friend), as captured in the 'Love Tape', show that Obinim had other girlfriends he took to that Bonwire hotel, and this fact exacted the jealousy of Gifty which has finally resulted in the disclosure of Obinim's secret sexual escapades, showing him to be a sexually promiscuous pastor of the highest grade. This means that all his preaching about morality has been done to deceive people; and thus he merits to be called a 'pharisee pastor', a false prophet!
On one of my occasional visitations to his church at Tema, I heard him advising the female members of his church to report to him any sexual advances of any of his male pastors, stressing that it was immoral for pastors to practise fornication and adultery. This pronouncement was made when he asked a certain lady to kneel down in the congregation, for she had had a sexual affair with one of his pastors. The lady was rebuked and disgraced in the church auditorium and that pastor suspended. All these went to prove that Obinim was upright, moral, God-fearing and a puritanical pastor who didn't brook such fornicatory or adulterous lifestyle in his church. But the Gifty Pokua affair has proved just the opposite, with Obinim himself preaching virtues and secretly practising vice!
OBINIM'S WIFE It was his description of his wife being sexually unpleasant which really pains a lot of people. His wife, Florence Obinim is a well-known respected musician of high distinction; and it's really unbecoming, a mark of rusticity and uncivilisation for Obinim to sadly and nastily disgrace Florence, his own wife, in such despicable terms. No sane married person can describe his wife's sexual interactions with him in such a bad way as Obinim has done to the humble and meek Florence. In fact, he has entirely disgraced his wife. And if Florence may contain such a remark (if she has the verve to do so), the mother, father, aunties, sisters and friends will be so highly annoyed as to push her to ask for an immediate divorce. But as a pastor, I choose to remain neutral on the question of divorce. All I can do is to rebuke Obinim for humiliating and disgracing his own precious wife before a married person who rather was his girlfriend. Obinim must learn to be wise, and thus always seek to praise and honour his wife before any person.
It was again bad on the part of Obinim to have sex with a to-be-wife of his junior pastor, the day before her wedding; and very silly to have sex with that same lady when she was pregnant. It is in this regard that most readers of the published 'Love Tape' are arguing that the child does not belong to pastor Willie Fobi (Gifty's husband), and it is Obinim's own child. Well, this could be a supposition; and the onus of verification of the paternity status of the child lies on a DNA test of a doctor. But again, it remains with Pastor Willie to decide on this paternity test issue. Nonetheless, what remains a big blot on the sexual virility of pastor Willie was Obinim's disgraceful act of openly discussing in the church the so-called 'low sperm' estate of this pastor Willie. Was this 'low sperm' description a true spiritual vision of Obinim? And if so, did Obinim prescribe any spiritual exercise and dietary menu to pastor Willie which could increase his sperm counts? Or did Obinim pray for him to be healed or miraculously recover the normal sperm counts? If Obinim did not do any such thing to put right the sperm-line of pastor Willie Fobih, then Obinim's pronouncement of low-sperm counts of this his junior pastor had no spiritual basis, but was merely a psychological manoeuvre to make the wife of Willie sexually keep away from her husband, in order to avoid the mixed-blood nature of that ever growing-child. This is supported by Obinim's insistence that Gifty was to go to stay with her uncle at Tema, during her pregnancy. Certainly, that was a plot to enable Obinim to easily get Gifty to sleep with her at the Bonwire hotel. Again, the conclusion here was to avoid the mixed-blood nature of the would-be born child. It is this conviction that prompts several people to ask Pastor Willie to require a DNA test of that sick child.
However, my contention here is that if the paternity test of a doctor concludes that it is 'bishop' Obinim who is the father of the child, will the child be sent to Obinim to take care of him? And will that not bring about a marital break between Pastor Willie and Gifty Pokua? Suppose this brings about a divorce, and Florence Obinim also breaks away from her husband on the ground of his adultery and disgrace to her, won't there be any possibility for Obinim to marry Gifty Pokua? And wouldn't that scenario turn into a real comedy of errors? Anyway, it would be surrealistic to consider all these far-reaching consequences to happen; but if they occur, with Obinim as the centre of interest, it would be the most bizarre incident to happen in Ghana.
PASTORS' TRICKS Obinim's case has sparked off more speculations, some bordering on the healing and miracles of some pastors. So far, two people have suggested to me that most of the 'healings' and 'miracles' which are displayed on TVs are really magical tricks of certain bishops who have some special pastors, who are well-trained to go to certain places and buy the services of trained simulators who pretend to be blind, crippled, deaf, dumb, or to be suffering from some malignant diseases. All necessary arrangements are secretly made to bring those 'blind', 'deaf', 'dumb' etc. people to that false prophet's church. During the church service, either a prophecy comes to mention some sick people who have been brought to the auditorium, or a healing-line is called, and those sick people are brought to be healed. Oftentimes, the bishop traces the spiritual causes of the disease -something due to the evil-workings of an auntie's witchcraft, or a juju, or a curse etc. which was to be cured soon. Prayers -special healing prayers -are made by the prophet, and all of a sudden, the sick person proclaims to have had healing, much to the joy and merriment of the church members. My informer told me that some of those who are said to be dead are chloroformed by some special people, for one, two or three hours, and the healers know when that 'dead' person should wake up. He prays and that person 'resurrects' from his or her death. And that's a miracle!
On this, I however argued that I myself have been healing various diseases and raising the dead and performed miracles by the charismatic gifts of the Holy Spirit given me, so there must be other pastors who use genuine gifts. My informer agreed to this, and said that whilst a few others are using divine gifts, others are using tricks. I mentioned that Obinim may be using divine gifts, and he answered, 'Hmmm? I doubt. Just watch out.' Well, do you or don't you believe 'bishop' Obinim to have been using true gifts of the Holy Spirit?
Send your answers to the letters column of this newspaper. (Coming soon: 'Temptations and Trials of Pastors').
By Apostle Kwamena Ahinful