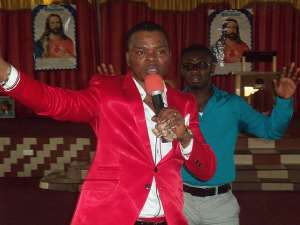 A clinical Psychologist, Mr. Emmanuel Bekoe has said that the recent controversy that Founder and General Overseer of International God's Way Ministry, Bishop Daniel Obinim has been involved in could adversely affect his wife's music career.
Bishop Obinim who has been embroiled in an ongoing sex scandal is married to popular gospel musician, Florence Obinim whose songs are enjoyed by both gospel and non gospel music lovers.
She has had a very successful career since she burst onto the music scene and her songs like Osoro Ne Me Fie, Wagye Me and her recent collaboration with Nigerian songstress, Princess Ifeoma have been hits.
This is not the first time Bishop Obinim has been involved in a scandal; about two years ago, he was alleged to have buried human parts at the church of his rival, Ebenezer Adarkwa Yiadom of the Ebenezer Miracle Worship Centre to frame him but those allegations turned out to be untrue.
This latest one has to do with a five-year affair he had with the wife of an associate pastor of his church by name Gifty Fobih which he has admitted to. Although they are alleged to have had a child together, Bishop Obinim claims to have crippled the little girl with a curse to punish her mum for making their affair public.
Although Florence Obinim has come out to declare her support for her husband, Dr Bekoe, who is the Coordinator of the Coalition on Domestic Violence Legislation in Ghana, says the negative attention the scandal is revealing could have dire consequences for her.
He said it could weaken her spirit and her relationship with her husband especially if more revelations become public while people may be inclined not to patronize her songs.
He however urged people not to judge the woman by the actions of her husband. "The public must align their opinions such that it would not attack the character of the innocent woman," he said.
He added that even though this was a very difficult time for Florence Obinim she should be careful how she handles the whole situation and called for her family and friends to rally round her.
Story: Maame Esi Nyamekye Thompson