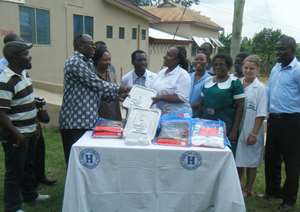 Projects Abroad Donates To Hospital®
PROJECTS ABROAD Ghana, a Non-Governmental Organization (NGO) has donated assorted hospital equipment worth GH¢1000 to the Nkawie-Toase Government Hospital in the Atwima Nwabiagya District of the Ashanti region.
The items which were presented last Tuesday included two delivery sets, 20 mosquito nets, eight artery forceps and five bicycle covers.
Presenting the items, the Country Director of Projects Abroad, Tom Davies reiterated the NGO's commitment to improving the health care delivery of Ghanaians.
The donation, he said, would not be a nine-day wonder; he promised to renovate the maternity ward of the hospital and help address other challenges facing it.
According to Tom Davies, the donation formed part of an earlier promise that was made when his team visited the hospital some months ago and promised to put place some of the organization's volunteers at the hospital to work.
Receiving the donation, Acting Medical Superintendent of the health facility, Dr. George Gyau thanked Projects Abroad for the gesture and expressed optimism that the donors would fulfill their second promise.
Dr. Gyau seized the opportunity to appeal to other individuals and institutions to help resource health facilities throughout the country for effective and efficient health care delivery.
Later in an interview, he said plans were underway for the Nkawie-Toase Government Hospital to build an emergency unit.
He said the hospital's decision to build the emergency unit was informed by the increasing cases of vehicular accidents which often occurred on the Bibiani-Kumasi road.
Dr Gyau noted that with the emergency unit, the hospital would be in a better condition to admit accident victims 'instead of taking them to Komfo Anokye Teaching Hospital (KATH) in Kumasi for treatment.'
From David Afum, Kumasi