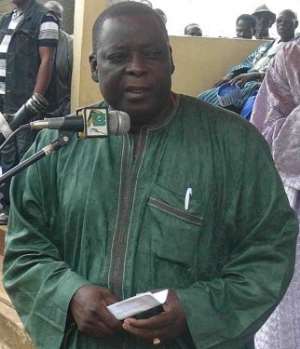 Bolgatanga (UE), July 31, GNA - Mr Mark Woyongo, Upper East Regional Minister, at the weekend called on Municipal and District Assemblies (MDAs) in the Region to commit themselves to making the Public Participation in Local Governance (PPLG) Phase two (11) programme a success.
He reiterated that in order to consolidate Ghana's pride as pace setters in democracy in Africa, there was the need for MDAs to understand the importance of the Sub-District Structures (SDS), and how it enhanced their role in strengthening and promoting democracy and decentralization.
Mr Woyongo made the appeal at a meeting organised for Municipal and District Chief Executives, Coordinating Directors, Planning Officers and other district officials to discuss the PPLG II, in Bolgatanga.
He expressed worry that the MDAs had not made use of opportunities provided by the PPLG programme, which was sponsored by IBIS West Africa, a Danish non-governmental organization (NGO).
Mr Woyongo said: "The SDS undoubtedly, is the basic or building blocks of Ghana's decentralization and democratization process because they seek to ensure grass roots participation in decision-making".
He asked MDAs to work hard to make SDS a success, despite challenges such as lack of permanent staff for the secretariat, poor remuneration and lack of infrastructure.
Mr Woyongo said that the Regional Coordinating Council had prepared monitoring plans and would visit the assemblies to assess the SDS.
Mr Emmanuel Abeliwine, Programme Director, Public Participation for Local Governance of the NGO, said the public should have the opportunity to determine how government should work, and IBIS's support for MDAs was a way of ensuring that structures put in place to promote good governance were working.
Mr Alexis Ayamdor, Regional Focal Person of IBIS, said the Region, which was selected for the PPLG pilot programme, was performing well and asked MDAs to give capacity support for the structures put in place.
The PPLG, which was instituted in 2007, is aimed at strengthening governance at local and national levels, and promoting participation of the marginalized at all levels.
GNA