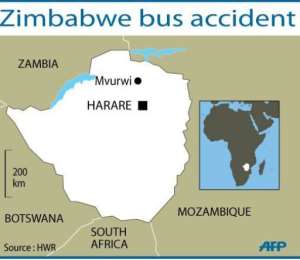 HARARE (AFP) - Nineteen people were killed when the commuter bus they were travelling in lost a wheel and veered off the road in northern Zimbabwe, state radio said Sunday.
Eighteen people died at the scene of the accident in the town of Mvurwi and 17 others were injured, the Zimbabwe Broadcasting Corporation reported.
A 19th victim died on admission to Parirenyatwa Hospital in Harare, the broadcaster said.
Police said the bus ploughed into the bush when one of its rear wheels came off.
The bus was carrying 29 members of an apostolic sect to their annual pilgrimage in the town of Concession, some 50 kilometres (30 miles) south of where the accident occurred.
Accidents are common in Zimbabwe because of the bad state of the country's roads, most of which are riddled with crater-like potholes.
© 2011 AFP