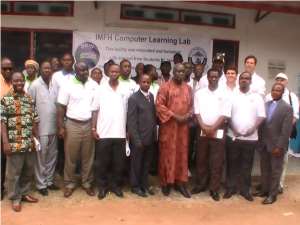 Abor, Volta Region, July 22, 2011
Students Bridging the Information Gap (SBIG), an International NGO headquartered in New Jersey, USA has commissioned a Computer Learning Lab and an enhanced library for 'In My Fathers House' (IMFH) Orphanage located in Abor in the Keta District of the Volta Region. The Computer Lab and Library will serve 465 total students including 128 orphans and residents at IMFH (between the ages of three and sixteen years) along with approximately 337 other children from 11 area schools. With the government's introduction of a national ICT curriculum, the support provided by SBIG will assist organizations like IMFH to meet the set standards.
At the commissioning, IMFH received the keys to the Computer Learning Laboratory and Library including 20 low voltage Inveneo Desktop Computers and Deep Freeze software systems, 20 Microsoft Office Softwares and other educational softwares, 1 computer networking system, 1 mobile router and wireless internet system, 1 power backup system and inverter, 1 laptop computer, a laser printer, an LCD projector, 20 computer chairs and desks and related furniture, and 20 library chairs, 4 tables and book shelves. In addition, SBIG stocked the Orphanage's school library with books cutting across a number of subjects to help the orphans and other children build on their knowledge through reading.
IMFH was established in 2000 and Mr. Frank Amenyo manages it. The orphanage is governed by a four member Board of Directors including Rev. Father Joseph Rabbiosi, Rev. Father Moses Debreh, Elsa Rabbiosi and Frank Amenyo. IMFH was selected for support by SBIG through a formal needs assessment process in which IMFH demonstrated their track record of teaching and caring for their students and orphans along with the basic requirements to house the computer lab and library. They also demonstrated their commitment to ICT instruction so that the technology and books are appropriately used. IMFH is recognized in and supervised in Ghana by the Registrar Generals Department and the Department of Social Welfare
Since 2008, SBIG has completed three computer labs and libraries in Ghana serving over 300 students at Baptist School and Orphanage (BASO) near Koforidua, approximately 400 students at Good Shepherd Orphanage (GSO) in Kasoa, and approximately 1,093 students and orphans from New Life International Children's Home in Cape Coast and surrounding schools. With the addition of 465 students from IMFH, SBIG will now provide roughly two thousand two hundred and sixty-five school children (2,265) with a unique opportunity to learn ICT skills and knowledge to compete in the modern world of technology.
The local SBIG Advisory Council that consists of Pastor Victor Ofori-Amoah - BASCO, Bishop Kweku Addae –GSO, and Mr. Derrick Fletcher Gaise - New Life, will support IMFH in its efforts. It will also include Mr. Kafui Prebbie, Managing Director of SBIG's local technology partner in Ghana - 1Village-Africa, a representative of the head of all private orphanages in Ghana - Ms. Caroline Aggrey-Fynn, Executive Director of the Association of Children's Homes and Orphanages (ACHO), and a representative from SBIG's Board who is also the Country Director for Edison Chouest Offshore, Mr. Abdel Banda.
SBIG believes the world is in an ICT age and, in order to prosper in the increasingly technology driven economy, every child should be given the opportunity to learn and develop his skills in the new field. For the Good Shepherd project, SBIG developed a partnership with Inveneo to supply low voltage computers (www.inveneo.com), One Village Foundation (1villagegroup.com) to install the computers, electrical and internet systems, and Microsoft to supply software for all the computers in the lab. SBIG has also assembled a team of local volunteers in Ghana to assist with its efforts and to ensure oversight and accountability with local orphanages and schools. SBIG welcomes additional support from individuals, corporate bodies, NGOs and other groups of people to come on board in helping with such a good cause.
"While there are many ways to help with the critical needs in Africa, we believe that SBIG's approach is particularly effective for several reasons. Our humanitarian efforts are focused on learning through (ICT) information computer and technology training and supplying books for libraries. As the proverb goes…….if you give a man a fish he will eat for a day, but if you teach a man to fish he will eat for a lifetime. Appropriate ICT training can truly change the lives of students to qualify them to participate in the modern economy," reiterated Mr. Tom Killian, President, Board of Trustees of SBIG.
Founded in February 2008, Students Bridging the Information Gap ("SBIG") is a Summit, NJ based tax-exempt organization that harnesses the humanitarian interests of students, corporate and faith-based partners and other civic groups to support fellow students in less-developed countries. For more information on SBIG, please refer to their website at www.sbigonline.org