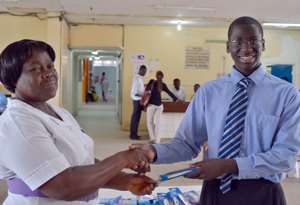 Joel Bervell presenting a thermometer to Mrs. Rebecca Lartey at the Korle Bu Children's Hospital.
HUGS FOR Ghana, a student-led nonprofit organization in Mukilteo, USA has donated 100 sets of thermometers to four hospitals in the Greater Accra and Western regions of Ghana.
Korle Bu Children's Hospital, Princess Marie Children's Hospital, Labadi General Hospital and Eikwe Hospital are the beneficiaries of the items worth approximately $3,500.
The organization, founded by 16 year old Joel Bervell, is dedicated to supporting underprivileged children in hospitals, institutions and other child-related services in Ghana.
Presenting the items to Rebecca Lartey, Deputy Director of Nursing Services, Bervell, President of the organization said, 'The organization's mission is to reveal the gift of love, hope, confidence and warmth to the hearts and lives of Ghana's youngest citizens.'
He said funds for the donation were raised through the health initiative projects-'100 Cents Saves a Life' and 'Ghanaian Night of Culture,' both free will donation events.
'The focus of the fundraiser was to provide information to the community about the needs of disadvantaged children in Ghana,' added Bervell.
He hoped the thermometers would contribute to the path of healing for children while at hospitals.
Mrs. Lartey said the donation had come at a time when the hospital needed it the most. She expressed joy about the donation and called on others to follow in the footsteps of Hugs for Ghana.
By Jamila Akweley Okertchiri