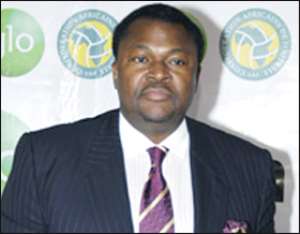 Nigerian billionaire and founder of Glo Telecommunications, one of the fastest growing telecoms companies in Africa, might be Africa's richest man, according to Forbes Magazine's analysis.
In March 2011, the magazine, in its annual ranking of the world's richest people, wrote that Mike Adenuga, also an energy tycoon, was the second richest man in Nigeria, 9th in Africa and 595 in the world worth a net of $2 billion. It was his debut on the rich-list.
Nigerian Aliko Dangote was valued at $13.8 billion, making him the number one richest person on the continent.
But the debate as to who is richer than the other between Dangote Aliko and Mike Adenuga in Nigeria is increasing.
Forbes says after the 2011 list was published, controversy erupted in the Nigerian media circles and several Nigerian analysts as well as Adenuga's staff refuting the valuation of their boss.
According to Forbes in a July 14, 2011 publication on its web portal, Adenuga's second placement in Nigeria on the rich list was based on his stake in Glo Telecommunications because representatives of Adenuga declined to give details of his assets.
"When working on the 2011 list of the world's richest, a Forbes reporter tried to reach Dr. Adenuga's representatives to verify his assets, but Adenuga, a chronically reclusive tycoon, did not respond…as a result, our valuation of the man was based solely on his stake in his telecoms company Globacom Holding, which at the time was worth $2 billion," said the magazine.
However, Forbes says fresh findings from a variety of sources including staff from some of his offices, the Nigerian Corporate Affairs Commission and analysis from professionals in the energy and telecoms sectors indicate that Mike Adenuga "is easily worth more than $2 billion, and depending upon who you talk to, could be richer than Aliko Dangote, last worth $13.8 billion."
Apart from his 74% stake in Conoil PLC, a Nigerian-listed oil marketing firm he founded and his holding in Equatorial Trust Bank, Adenuga owns 100% equity in all his other businesses, said Forbes' writer Mfonobong Nsehe based in Nigeria.
The other major assets owned by Mr Adenuga include Nigeria's largest indigenous oil exploration and production company Conoil Producing (produces 100,000 barrels of oil per day), operating in six oil blocks and holds a 25% stake in a Joint Development Zone Block 4 which is an oil prospecting license with proven reserves of close to one billion barrels of oil and close to a trillion cubic feet of gas.
"Adenuga currently controls total equity of Conoil Producing, which analysts estimate could be worth as much as $10 billion," says Forbes with an unfinished calculation of the assets value.
It added that Adenuga spent $650 million acquiring Shell's stake in Oil Mining License (OML) in April 2011, Shell's most profitable onshore oil block in Nigeria.
With Globacom Holding and Globacom West Africa, two distinct companies, and equity ownership in Nigeria's Equatorial Trust Bank, Forbes reports that he also "owns extensive real estate holdings in some of Nigeria's most expensive neighborhoods, including the Mike Adenuga Towers, a landmark building in Victoria Island, Lagos.
He also owns property in Banana Island – Nigeria's most expensive neighborhood – and several other properties in Abuja, London, the US and Dubai."
The writer recalled a conversation he recently had with Chief Dele Momodu of Ovation Magazine and a former Nigerian presidential candidate about wealth of some of Nigeria's richest people, and Momodu said to him "No one in Africa is as rich as Mike Adenuga."