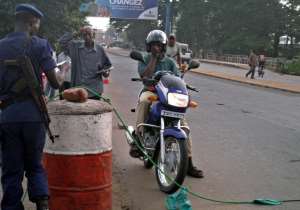 BUJUMBURA (AFP) - At least nine people have died in clashes between unidentified "armed gangsters" and security forces in northwest Burundi, sources said Wednesday.
On Tuesday morning "a dozen unidentified armed gangsters ambushed a taxi", Anselme Nsabimana, the governor of Cibitoke province where the clashes took place, told AFP by telephone.
Two soldiers, a police officer and six "gangsters" were among the dead.
Nsabimana said security forces caught up with the assailants but added that the fighting with automatic weapons was heavy and lasted well into the night.
"So far we have found at least six bodies of the gangsters who were killed and I think there are others," he added. "On our side there were at least one or two dead soldiers."
Army spokesman Colonel Gaspard Baratuza confirmed the clashes but did not give details, while the armed forces' chief of staff General Godefroid Niyombare went to the scene to "see for himself what happened".
The incident, the most deadly since the end of the 1993-2006 civil war, came amid increasing reports in recent weeks of attacks by "armed gangs".
Nearly 300,000 people died during the war.
© 2011 AFP