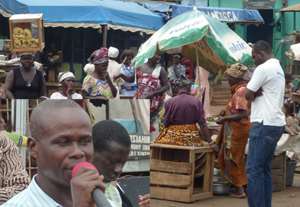 A section of the market women Inset: Mr John Essel addressing the Moree community
THE MOREE Health Center in the Abura-Asebu-Kwamankese (AAK) District of the Central region has recorded 66 fresh cases of cholera with two deaths.
Barely three months ago, DAILY GUIDE reported that the Central Regional Health Directorate had recorded 555 cases of cholera and 21 deaths since the beginning of the outbreak.
John K. Essel, the Technical Officer in charge of Disease Control at Moree told the paper in an interview Friday that the pandemic started during the latter part of June when two cases were recorded but has since increased to 66.
He added that his outfit is still recording more cases and by the time DAILY GUIDE was leaving the hospital, a nuclear family of three which included a one year old boy was said to have been admitted there for treatment against cholera.
Communities in the area affected by cholera include Alata, Nkum, Bentsir, Kuwait, Essarmu, Apeowsika, Akonoma, Amosima and its surrounding areas.
Giving the breakdown, Mr. Essel said seven children under the age of five, 53 people above the age five and one pregnant woman had been infected by cholera.
He said his outfit has outlined strategies to trace and eradicate the disease totally from the area and region in general.
During an interaction at Moree Alata, a community which has recorded 39 cases of cholera representing the highest in the district since the recent outbreak, Mr. Essel called on affected residents to report immediately to the nearest health centre for treatment since cholera treatment is free.
He said more people could die within three hours of infection if left unattended to because of the alarming rate at which the disease is spreading.
In an interview with the Central Regional Programmes Coordinator of Better Ghana Management Services Limited (BGMSL), Ivy Naa Deedei Thompson, she expressed frustration over the difficulties that her outfit which is partnering the Ghana Health Service (GHS) is facing in its efforts to control the pandemic.
She attributed the problem to the bad attitudes of people living in the community who have refused to heed the numerous educational campaigns that BGMSL has carried out in the region about cholera prevention.
The company together with the GHS, chiefs and people of Moree will carry out a massive clean-up exercise in the Moree community.
Ms. Thompson said this would help curb the pandemic along coastal areas in the region.
Residents would be taught about the need to wash their hands before and after eating and keeping their surroundings clean.
From Desmond K. Dapaah, Moree