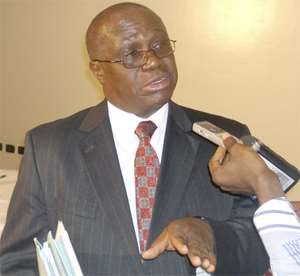 CITY & BUSINESS GUIDE has gathered that banks in the country will not cut their base lending rates in spite of the 50 basis points drop in the Policy Rate-the Prime Rate last week.
The paper learnt that the banks reduced their base rates before the Central Bank cut its policy rate and will therefore not respond to downward adjustment in their rates.
Treasury Bill, borrowers risk, the policy rate, cost of fund, loan loss provision and administrative overheads are some of the factors that influence the interest rates of banks.
The rest are competitors' action, primary reserves and inflation.
Asare Akuffo, Managing Director, HFC Bank, who also doubles as President of the Association of Bankers, emphasized that the 0.5 percent decrease in the prime rate will not necessarily force banks to reduce their base rates.
He told Joy Business that the banks have their own methods in arriving at their base rates, noting that the drop in the base rates was insignificant to coerce banks to reduce their interest rates.
Most of the banks reduced their base rates when the Bank of Ghana cut the prime rate after the Monetary Policy Committee (MPC) in April.
Ghana Commercial Bank (GCB) reduced its base rate from 21.0 percent to 20.50, while UT and Stanbic also reduced their base rates from 26.90 and 23.95 to 25.90 and 21.95 respectively. Barclays Bank Ghana also reduced its rate to 18 percent, the lowest in the banking industry.
Businesses are however optimistic that interest rates will decline to less than 20 percent in order to conform to the current.
Meanwhile, the Central Bank will finally crack the whip on banks operating in the country to ensure they charge lending rates which conform to its Policy Rate-the Prime Rate.
The Governor of the Central Bank, Paa Kwesi Amissah Arthur announced at the MPC meeting on Wednesday, July 6, 2011 that the BoG had set up a committee, chaired by Tony Oteng Gyasi, former President of the Association of Ghana Industries (AGI) to find out why banks had kept their lending rates very high.
The committee comprises two of the players, Barclays Bank Ghana and CAL Bank.
He noted that the committee was established in consultation with all the 27 banks in the country.
According to him, though the Central Bank operates an open market policy, it has become necessary and crucial for his outfit to compel the banks enable consumers and businesses borrow at lower interest rates.
Banks were lending to both consumers and businesses at 28 percent on the average when the policy rate was 13 percent in April 2011.
The recommendations of the committee are expected to bring standardization and transparency into the determination of lending rates, the BoG added.
By Charles Nixon Yeboah