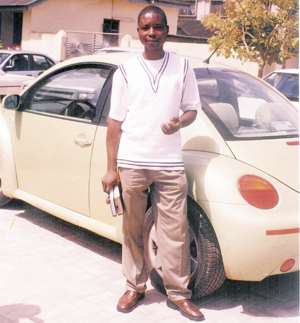 Justice Asare
A disagreement between a couple at Morso in the Asante Akim District of the Ashanti Region, over which religion their son should belong to, has sparked trouble and imperiled the life of the youngman, with the enraged Muslim father threatening to kill the son if he continues to be a Christian.
DAILY GUIDE gathered that the man, Kwasi Amoah, converted to Islam when the son, Justice, was but a toddler; and the former subsequently took up the name Issah.
The marriage between the Muslim man and Lydia Dufie, his Christian wife, was advisedly dissolved long ago, with Mr Amoah on the heels of the young fellow whom he threatened to eliminate if he does not take up Islam also.
Given the persistence of his father to carry out the threat, the youngman has taken cover in a yet-to-be identified location with the knowledge of his acquiescing mother, DAILY GUIDE sources revealed.
Though the Police have cautioned him to desist from the unlawful act, the father does not appear anywhere near abandoning his threat.
Issah, as Kwasi Amoah is now known, was arrested and detained a few months ago for attempting to stab the son whom he accused of adopting the religion of his mother.
The collapse of the marriage between the couple is a statement on the difficulties involved in a cross-religious matrimony since determining the faith of the offspring of such a union is always fraught with challenges.
Currently, the police, apprehensive of what could happen to Justice, are following the unfolding story, as the mother loses sleep over the safety of her child.
In an interview with the distressed mother, she said, 'I entreat the authorities to save the life of my son from the hands of this religious extremist who has reneged on his promise not to interfere with the religious belief of the child when he broached the idea of converting to Islam.'
She told this reporter that she did not discourage her husband from converting to Islam, 'but no sooner had he converted than our problems began. And because of the problems our marriage fell on the rocks.'
When DAILY GUIDE contacted the unremorseful father, this is what he had to say: 'I will rather kill him and face the firing squad (death sentence), than live to see my son not worshipping Allah.'
From Morgan Owusu, Morso