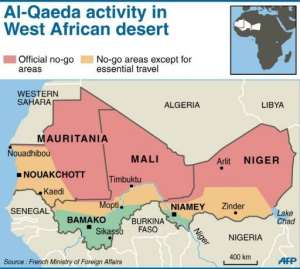 A map of Al-Qaeda activity in the West African desert. By (AFP/Graphic)
BAMAKO (AFP) - A number of bodies have been recovered after a Mauritanian army raid on an Al-Qaeda in the Islamic Maghreb (AQIM) camp in neighbouring Mali, a local official and other sources said Saturday.
"Dead and burned out vehicles were found where there had been fighting between the Mauritanian army and AQIM," said a local official.
"I do not have exact figures" nor could he say from which side the casualties had come, he added.
But an independent source in the area contacted by phone spoke of a "heavy toll."
The Mauritanian army bombed the camp in western Mali's Wagadou region on Friday evening in an operation that involved fierce fighting and left four soldiers wounded, security sources said.
Several military sources had earlier said AQIM was trying to set up a new base in the region.
Earlier this month, Mali and Mauritania agreed to lead a joint military operation to thwart Al-Qaeda's north African offshoot. The operation involves hundreds of soldiers.
AQIM members have been regularly spotted in the region, suggesting it has become a base for the group.
Mali and Mauritania have previously expressed concerns about the activities of the group, along with Nigeria and Algeria.
AQIM, which has its roots in Algeria, has bases in Mali, from where it carries out armed attacks and kidnappings, particularly of Westerners. It is also involved in arms and drugs trafficking.
© 2011 AFP