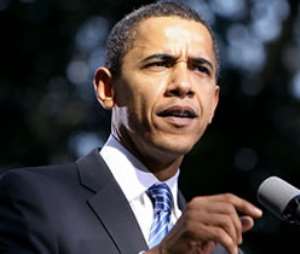 The high unemployment in United States has affected those at the bottom of the ladder most, proportionally Africans with double the rate of whites unemployment and even worse amongst their youths. Nevertheless, Africans or African American have survived the worst depression or recession in America, so are the new immigrants. But this latest recession has a k leg because new immigrants are more educated and still suffer more than American born with the same educational standard. Some may say that is not new.
If Obama loses the next election, it will be a personal disaster. Those Africans that would rather support Hilary Clinton for President would come roaring that – I told you so. He has not fulfilled his wish to African American communities to leave them better than he met them as President. While Mrs. Clinton could have been bolder for revival projects in African communities as Johnson did for Civil Rights and even Republican Nixon did targeting Small Business Administration to them, Obama would only be able to point to what he did for all Americans. It will not carry much weight amongst African Americans.
Obama as the first African American President, in spite of all his accomplishment in just three years has not been so credited. In areas conservatives should support him, they have taken opposite side or managed to take his credit. Osama's death only gave him a temporary bump. Some conservatives attacked his bombing of Libya as the left; some for lack of Congress approval. Though he saved the world economy from a depression, it will be difficult for him to go into an election with a high rate of unemployment, no matter what else he accomplished. He has been faulted by the liberals of giving in too easily to the conservatives and always comes out with a raw deal of any compromise.
One case in point is the economic stimulus that liberal economists thought was too little. Out of the small stimulus he could get in compromise with the Republicans, one third of it was tax cut and cash for some for the states in order to keep schools and essential services like police and fire fighters on the job. Whatever was left could not stimulate job growth enough to help those that suffer high unemployment most in this economy. Usually, in a stubborn recession you want to target group with chronic unemployment. Africans have lost their most valuable American assert, homes, more than anyone else.
The not so obscure mission of the Republicans is to make sure the stimulus does not work well or long enough for jobs to be produced to get Obama re-elected. In exchange for extension of a few months of unemployment insurance, Republicans got the Bush tax cut extended for another two years. Yet, they are still crying that lack of certainty in the tax rate is keeping businesses from hiring while business is seating on trillions of dollars. It did not keep them from making record profits and going back to the old ways of bonuses, even after getting government hand-outs. They switch from jobs as priority to deficit after the midterm election. They will be back to jobs for the 2012 election.
But for the bailout, General Motors and Chrysler could have gone under and many jobs gone. Conservatives' concern about higher deficit must be well taken, but not in the short term when they are willing and still calling for more tax cuts that has not worked for the last ten years. Those creating jobs are not the big corporations benefitting most from tax cut but small businesses that need patronage of working class that may benefit most from another stimulus in the short term, even if it is because election is getting close. Unless Obama has plans to stimulate the economy with jobs towards the decaying infrastructure that needs attention immediately, he can kiss his re-election good bye.
While there are those economists calling for cooler heads between proponents of either more tax cuts or more stimulus plan, the optimists plan has not worked as they were the same ones predicting lower unemployment by now. Waiting for the economy to rebound based solely on business lowering unemployment before the election is like playing Russian roulette with the re-election of Obama. Unless he wants Republicans plan to work and he is resigned to one term presidency. Americans have lost the appetite for their children going to war costing a trillion dollars without worrying about deficit. Those brought home must be provided for with promised hospitality and jobs.
In a changing economy that is not producing enough jobs to meet high demand, political incumbents are at a risk of losing elections. It must be noted that Ronald Reagan that came in asking if people were better off than the previous four years won a second term in the face of high unemployment but that is an exception. He left credit card economy with the highest deficit before his time and people still felt good about him.
So Africans, where Obama still enjoy high approval rate, are complaining. The Hispanics got Supreme Court Justice, Women got Equal Pay Act, Business got Bail Out and the rich got extension of Bust tax cut. Obama has always stated that the highest unemployment is amongst those with the least education and by making education a priority, he can help Africans or African Americans directly into better paying jobs. Even then, the rate of unemployment amongst African graduates has always been the same as high school whites. The fear is that if he targets African unemployment specifically, it may backfire.
If Obama loses the next election, the implication for African countries and African Americans will be sobering. He is our son. Of course, Republicans will use Greece as an example of a country that lived above its means when it suits them. But the greatest creator of jobs right now is China by government intervention in the economy. Nobody wants America to be like Greece or China, but the only way America got itself out of a stubborn recession turned depression was by stimulus plan. This recession in America is getting stubborn and some economists are predicting double dip-recession.
Unfortunately, one year is too short to do anything specifically for Africans; he has to wait until his second term. Without much fanfare, his Attorney General changed cocaine sentencing disparity between crack used by blacks and powder used by whites. It got many Africans or African Americans out of jails. President Clinton had vetoed legislation that could have equalized time sentenced for both. But to get to second term, Obama has to produce jobs for most of the people in need regardless of the color and creed either by special project he can pull by executive order or put the Republicans on the spot with another stimulus. Republicans have to choose between jobs, any jobs by any means or more short term deficit.