22 June 2011
|
Politics
Kufuor praises sound agriculture policy for World Food Prize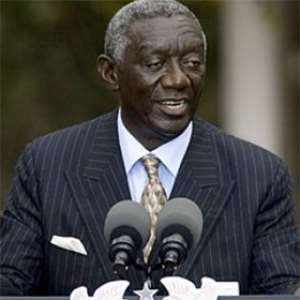 Former President John Agyekum Kufuor has said he is excited that he has been named as one of the winners of the 2011 World Food Prize award in a ceremony at the U.S. State Department.
According to Mr. Kufuor, his sound agriculture policies gave him the honour.
The World Food Prize Foundation is honouring John Agyekum Kufuor, and Luiz Inácio Lula da Silva, former president of Brazil, for creating and implementing government policies that alleviated hunger and poverty in their countries.
They were commended in remarks by Secretary of State Hillary Rodham Clinton, Secretary of Agriculture Tom Vilsack, and USAID Administrator Rajiv Shah.
Former president Kufuor is been commended for leading Ghana to become the first sub-Saharan African country to cut in half the proportion of its people who suffer from hunger, and the proportion of people living on less than a dollar per day, on course to meet UN Millennium Development Goal 1.
Continuing Ghana's tradition of stability, President Kufuor prioritized national agricultural policies: Ghana saw a reduction in its poverty rate from 51.7 percent in 1991 to 26.5 percent in 2008, and hunger was reduced from 34 percent in 1990 down to 9 percent in 2004.
Speaking to the Citi News on Wednesdaay June 22, President Kufuor said the impact of his government's policy on agriculture has been crucial for Ghana's food security.
'I am overjoyed with it because whilst in Government I knew that poverty and hunger went hand in hand and so my Government tried very hard to lift our country out of that bracket. Especially in line with the Millennium Development Goals, the first item was to fight against hunger and poverty. So we did work that passionately hoping to help Ghana. We tried to improve agricultural production because over sixty percent of our people are rural and they live on agriculture. There is so much unemployment at home so we thought if we improved agriculture, modernised and commercialised it, we will be fighting against unemployment and poverty and along with it hunger, and I think we went some way' he said.
President Kufuor and his counterpart, Luiz Inácio Lula da Silva, former President of Brazil, will be formally awarded the World Food Prize at the 25th Anniversary Laureate Award Ceremony at the Iowa State Capital on October 13 2011, in conjunction with the Borlaug Dialogue international symposium in Des Moines, Iowa, themed 'The Next Generation: Confronting the Hunger Challenges of Tomorrow.'
The World Food Prize was created in 1987 by Nobel Peace Prize winner Dr. Norman Borlaug, to recognize individuals who have contributed landmark achievements in increasing the quality, quantity or availability of food in the world.
Source: Citifmonline