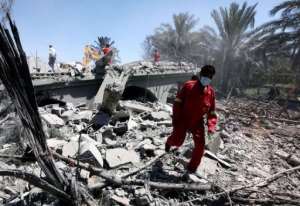 SORMAN, Libya (AFP) - NATO insisted an air strike west of Tripoli hit a military target and not civilians as claimed by Moamer Kadhafi's regime, as a British air force chief warned Tuesday of Libya overstretch.
NATO, reversing an initial denial, acknowledged its warplanes early on Monday carried out strikes in the Sorman area, 70 kilometres (45 miles) from Tripoli, but said its warplanes bombed a "high-level" command and control node.
Libyan government spokesman Mussa Ibrahim said 15 people, including three children, were killed in the attack, which he slammed as a "cowardly terrorist act which cannot be justified."
Ibrahim said the attack was on an estate of a veteran comrade of Kadhafi, Khuwildi Hemidi, who served on the Revolution Command Council Kadhafi created when the strongman seized power in 1969.
Journalists escorted there by authorities saw damaged buildings on the sprawling estate.
Reporters were also taken to Sabratha hospital some 10 kilometres from Sorman, where an AFP correspondent saw nine bodies, including two children. They also saw body parts including a child's head.
Canadian Lieutenant General Charles Bouchard, commander of NATO operations in Libya, insisted the military was targeted.
"This strike will greatly degrade Kadhafi regime forces' ability to carry on their barbaric assault against the Libyan people," said Bouchard.
"Wherever Kadhafi tries to hide his command and control facilities, we will find them and destroy them."
The new Libyan claim of civilian deaths came just hours after NATO acknowledged that one of its missiles had gone astray early on Sunday, hitting a residential neighbourhood of Tripoli.
Rebels fighting Kadhafi's four-decade rule blamed the veteran strongman for the deaths, charging that his forces deliberately stashed arms in schools and mosques.
"We are sorry for the loss of civilian life," said rebel spokesman Abdel Hafiz Ghoga, adding: "We hold the Kadhafi regime responsible for having placed military armaments and rocket launchers near civilian areas."
Italy warned that NATO's accidental killing of civilians was endangering the alliance's credibility.
"NATO's credibility is at risk," Foreign Minister Franco Frattini told reporters on the sidelines of a meeting of European Union foreign ministers in Luxembourg.
"We cannot run the risk of killing civilians. This is not good at all."
At the Luxembourg meeting, the EU foreign ministers urged the use of frozen funds to finance Libya's opposition.
The bloc said in a statement that it "acknowledges the urgent financial needs of the Transitional National Council" (TNC) and said the aid "where possible" could include "the use of frozen Libyan funds," while respecting international law.
On Monday, the central bank in the United Arab Emirates froze the assets of 19 Libyan figures in line with UN sanctions against Kadhafi's regime.
The rebels have warned they are running out of money as their struggle enters a fifth month and called on governments in the NATO-led coalition to make good their promises of funds.
In London, Air Chief Marshal Simon Bryant, the deputy head of the Royal Air Force, has warned that Britain's ability to carry out future missions is under threat if its involvement in Libya extends past the summer, a report said Tuesday.
The comments by Bryant come just days after the navy chief warned of tough choices if the Libyan campaign lasts more than six months.
In a briefing paper for lawmakers obtained by the Daily Telegraph newspaper, Bryant, the air force's head of combat operations, said missions in Afghanistan and Libya were together placing a "huge" demand on resources.
"Two concurrent operations are placing a huge demand on equipment and personnel... Should Operation Ellamy (Libya) endure past defence planning assumptions the future contingent capability is likely to be eroded," Bryant said.
Meanwhile senior Libyan rebel leader Mahmud Jibril arrived in China on Tuesday as Beijing intensifies its involvement in efforts to resolve the crisis in the wartorn country.
Jibril, the top foreign affairs official in the Libyan opposition's National Transitional Council (NTC), will meet with Chinese Foreign Minister Yang Jiechi during his two-day visit, ministry spokesman Hong Lei told reporters.
"China's immediate task is to promote peace and encourage talks," Hong said, adding the situation in the north African state, where unrest broke out in mid-February, "should not be left as it is anymore".
"The Libyan crisis has lasted for four months -- during this period of time, the people of Libya have suffered to the fullest extent the chaos caused by war, and infrastructure was greatly damaged," Hong said.
"China expresses great concern in this regard."
© 2011 AFP