June 20, 2011
|
General News
Anna Bossman: I felt frustrated by ruling on Dr. Anane's case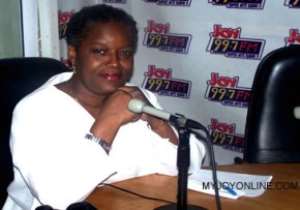 The outgoing head of the Commission for Human Rights and Administrative Justice (CHRAJ), Ms Anna Bossman has, for the first time, commented on the decision by a High Court to quash the Commission's adverse findings against former Minister of Health, Dr. Richard Anane due to procedural error in the lead up to the investigations of the case.
Following media reports of corruption, conflict of interest and abuse of power against Dr. Anane, CHRAJ instituted a full-scale investigation into the allegations.
In September 2006, the Commission found Dr. Anane guilty of some of the allegations and recommended to then President J.A. Kufuor that he be dismissed from office as the Minister of Health.
Dr. Anane however resigned with a promise to fight for his innocence.
In March 2007, an Appeals Court Judge with additional responsibility on matters as a High Court judge, Justice Baffoe Bonnie declared CHRAJ's ruling null and void on grounds that the Commission ought to have based its investigations into the allegations on a formal complaint.
The Court stated that by investigating the matter without an identifiable complainant, CHRAJ was behaving like the proverbial octopus: "stretching its tentacles to look for complaints to investigate," an act which would be a "recipe for chaos".
But speaking on Joy FM's Super Morning Show on Monday, Madam Bossman stated her disagreement with the ruling, insisting that the courts took their decision in the strictest sense of the law and should have considered other issues relating to the case before taking such a hard line.
"I felt frustrated" she said, adding the courts never went into the merits of the case which is the basis of the investigations.
"We found that, yes, there was abuse of power and [the cases of] conflict of interest were wholly substantiated," she indicated.
Madam Bossman said "there were certain times that I felt like, did we put our case across as clearly as we should. I felt we did. As always when you take matters to court, there is always a possibility that the court is not going to see it your way."
"I felt let down not only by the courts, because I believe that all of us, especially all of us in the governance work have our roles to play. I think that CHRAJ played its role, the court played its role but I'm wondering whether parliament played its role and that's where I had a little bit of a first let down."
She said parliament had the opportunity to make some statement on the conduct of public servants but failed to do so.
Asked whether she was personally attached to the case, Madam Bossman said "it was never Anna Bossman vs Dr. Anane. This is a job that I was doing and it is not personal."
According to Madam Bossman, she has always felt that institutions such as CHRAJ were not much appreciated by those in political office even though she refused to admit that there was some orchestration behind the scenes to stifle the Commission's performance.
"Orchestration maybe, is too strong a word and as I say, I'm not sure that I can substantiate that, but what I can say is that, I feel or I felt that the work of institutions such as ours has not really been appreciated in its entirety by the powers that be and even by the public."
Madam Bossman who is resigning her position to take up a job with the African Development Bank said the Commission is riddled with a number of challenges that prevent it from fully carrying out its functions.
She said Ghanaians fail to recognize the essence of the Commission, an institution which is supposed to check corruption and help protect the rights of all citizens.
She also bemoaned the lack of resources, explaining that this clearly shows that they are not a priority.
Anna Bossman said due to poor working conditions they are unable to recruit and retain quality human resources. She however said despite this fact the Commission tries to deal with issues speedily.
She therefore called for more support for the Commission from the citizenry and political office holders.
Story by Derick Romeo Adogla/Myjoyonline.com/Ghana