13 June 2011
|
Zimbabwe
Mugabe, rivals welcome summit resolutions on Zimbabwe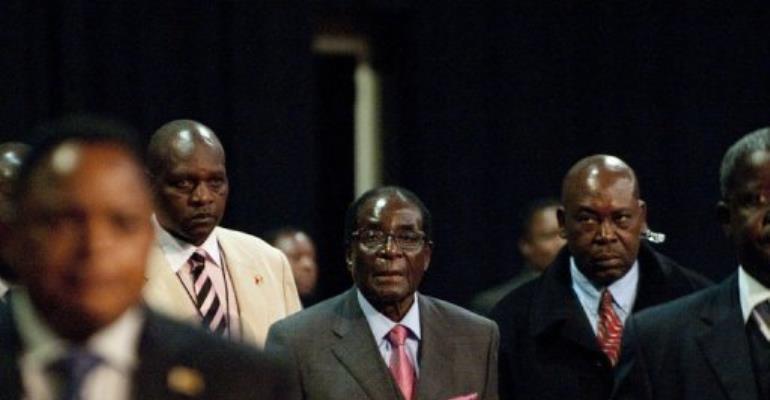 HARARE (AFP) - A status check by southern African leaders on the progress of Zimbabwe's power-sharing deal was welcomed Monday by both factions of the country's tense coalition government.
"It came out very well," President Robert Mugabe told journalists on his return from South Africa, where leaders from the 15-nation Southern African Development Community (SADC) on Sunday reviewed the progress of the so-called Global Political Agreement between Mugabe and Prime Minister Morgan Tsvangirai.
The power-sharing government between the two rivals, formed in the wake of a violent, failed election in 2008, is meant to oversee the drafting of a new constitution and implement reforms to guide the country to a clean vote.
But regional leaders on Sunday urged them to speed up the process, which is running a year behind schedule, and asked them to finalise a roadmap laying out a new timetable for the constitution and elections.
Both Zimbabwean factions sought to spin the summit in their favour Monday.
Mugabe said South African President Jacob Zuma, the SADC's point person on Zimbabwe, had given a "very good report" on the progress of the power-sharing deal.
Zuma "acknowledged the efforts that the Global Political Agreement is making, in other words what our negotiators and the principals put together are making, and that there is progress now that there is work going on to establish the roadmap, that the highlights of the roadmap have been marked, what remains now are the timelines," Mugabe said.
Tsvangirai's Movement for Democratic Change (MDC) meanwhile said it supported the announcement of a new roadmap.
"This involves the completion of all the steps necessary for the holding of free and fair elections, including the finalisation of the constitutional reform process and the removal of all state-sponsored violence," the party said in a statement.
"We are happy that the summit emphasized... the need (for) clear timelines to be added to this roadmap."
Mugabe, 87, has ruled Zimbabwe since independence in 1980.
He has called for elections this year, with or without a new constitution, in a bid to put an end to the coalition government. But Tsvangirai wants the SADC to endorse polls for no earlier than 2012.
The power-sharing deal has seen Zimbabwe's economy rebound from record-setting hyperinflation, but has not ended reports of political abuses.
Amnesty International has accused Zimbabwe's security forces, which remain firmly in Mugabe's grip, of complicity in a wave of violence against MDC supporters this year.
© 2011 AFP