10 June 2011
|
Technology
Nsoroma Tracking System Wins Award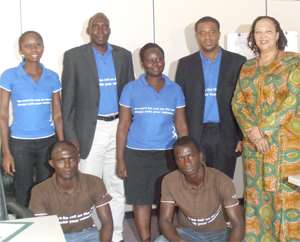 Nsoroma tracking and vehicle fleet management service, which is marketed by Multiplant Ghana Limited, has won an award in the e-Business and Commerce category of the 2011 World Summit Awards (WSA).
The award was among five prizes, which were mandated by the United Nations' World Summit on the Information Society (WSIS) Plan of Action in pursuit of the Millennium Development Goals (MDGs).
WSA is a global not-for-profit organization in the framework of the United Nations which selects and promotes best practice in e-Content production and creativity in innovative Internet applications.
It was initiated in 2003 by Austrian Government as part of its main contribution to the United Nations' World Summit on the Information Society (WSIS).
The award, which focuses on the selection and promotion of the world's best in e-Content Creativity, seeks to stimulate and facilitate national evaluations and selections in all UN member states.
The purpose is to strengthen quality e-Content production and markets, raise awareness of quality products and applications, provide recognition to outstanding producers and designers and facilitate a global network of expertise for the benefit of those involved.
Dorothy Gordon, the National Co-ordinator of WSA-Ghana, speaking at a press conference held in Accra to inform the media about Nsoroma's achievements, commended the management of Nsoroma and called on the youth to aim high all the time and put into practice their God-given talents.
'I am extremely pleased that once again Ghana distinguishes itself as a home of IT innovation and creativity in developing new and viable business solutions. We look forward to even higher achievements in the Mobile Awards and the World Summit Youth Awards.
Nsoroma was established about four years ago and has been structured to deal with the infrastructural limitations and harsh conditions of Sub-Sahara Africa.
It won the 2011 award for offering a highly user-friendly, reliable fleet management and tracking service coupled with attentive customer service.
By Stella Danso Addai