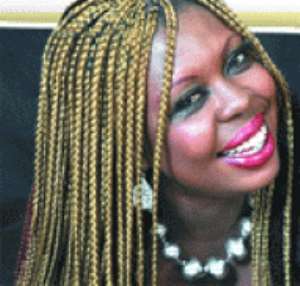 AFIA Schwarzenegger, the popular actress who plays the lead role in the 30-minutes TV comedy series Afia Schwarzenegger on TV3 has a most unusual love wish - to become Ghana's 'First Mistress' following what she describes as her crush on the NPP presidential hopeful, Nana Addo Dankwa Akuffo Addo.
She believes Nana Addo will win the 2012 elections and become President of Ghana and she will be his mistress, official First Mistress.
"I have had a long-term crush on Nana. I admire him so much that I wish he were mine", the 30-year-old widow, whose real name is Valentina Nana Agyeiwaa, told Showbiz rather unabashedly.
"I know it is wrong to go after someone's husband but I have already prayed to God to forgive me. You see, I am not taking him away from his wife so she shouldn't worry at all. She will still be our First Lady. I just want to 'borrow' him while I wait for my Mr Right", she said.
And for Afia, a mother of nine-year-old twin boys— James Ivan and John Irvin Guiling, her prince charming must be a wealthy christian. "My man must be a christian, rich and rich, that's all. Looks are not very important to me so I am not looking for a Mr Universe to marry. The man after my heart just has to be a christian and rich".
Afia finds watching the stars as very romantic. " I love that. I used to do that with my late husband. We had a place at Coco Beach. We used to make bonfires and just stare at the stars and have fun.
Afia came into the lime-light in February this year when the Afia Schwarzenegger series started airing on TV. In the series, she plays Afia who lives a lie. The Afia in the series is a con artist called Grace Boamah born in Aburi but parades around as Afia Schwarzengger, the god- daughter of Arnold Schwarzenegger, the former Governor of California.
Although she's never left the shores of Ghana, she keeps up appearances with the impression she has been living abroad and just returned home with her female Shitshu dog, Biscuit.
"The series is to make people laugh. It is to help ease some of the tension in the country. Laughter is good therapy and it is necessary for people to exercise their ribs often and that is what we aim to do with Afia Schwarzenegger", she said.
According to Afia, acting was never part of her plans until she returned home last year from a six-year sojourn in Johannesburg, South Africa and met with her childhood friend, Deloris Frempong Manso (Delay) of Oman FM who is the executive producer of the series.
Advertisement
"We were at the Holiday Inn and I stumbled and said something silly like 'sorry for the rude interruption' and we all laughed.Then Delay said she has been looking for someone to play Afia's character in the series and she thought I could do it. I went for the audition and I got the part and the rest, as they say, is history", she said.
Asked how she is able to get into character and come up with all the funny phrases, Afia said " I am a christian so I pray alot. I also read my script and with Biscuit by my side, I am able to flow.
"You know, Biscuit belongs to Delay but she is my baby. I have known her since she was five days old. I am her god-mother. She will be one year old in October.
Afia said coming on TV has been fun but not without it setbacks. "I have made some beautiful friends since I started coming on TV however, I have already been hit with a lesbian allegation and that hasn't been easy for me.
Afia who at the moment operates a boutique in Kumasi hopes to take on some further studies in the near future. " I want to go back to school hopefully in 2014 for a Private Pilots Licence (PPL) in South Africa and if things go well, I will go further to pursue a commercial pilot course. I really want to become a pilot but it is very expensive so I will have to make some money first.
Although her sons love what she does currently, Afia believes they would prefer her being a pilot. "I was doing a lot of charter flights when I was a cabin crew member and I used to take them along whenever it was a return trip.
She has also been offered roles in some movies and will soon host a talk show on radio. "It is the first of its kind but I am not saying much about it incase someone nibs my idea.
Afia was born at Krofrom, a suburb of Kumasi, to Madam Grace Achiaa, a business woman and Mr Augustine Agyei. She started her basic education at the Ridge Experimental School and continued at Tamale Seventh Day Adventist School. She later enrolled at the KNUST Secondary School and thereafter to St Louis Girls' School, all in Kumasi.
She enrolled at the Future Flyers Academy in Johannesburg, South Africa, for a cabin crew licence programme and thereafter worked with South African Airways in Johannesburg between 2007-2009. She later joined Allegiance Air PTY also in Johannesburg and remained their employee until she decided to return home in October 2010.