June 3, 2011
|
Burkina Faso
Burkina's presidential guard attacks mutineers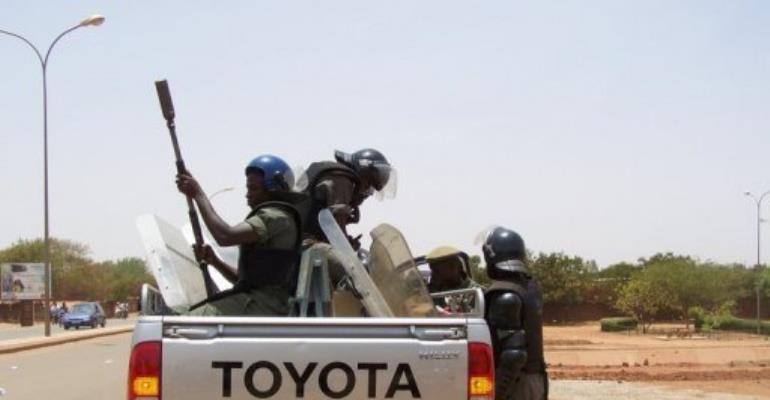 OUAGADOUGOU (AFP) - Burkina Faso leader Blaise Compaore's presidential guard on Friday went on the offensive against mutinous troops in Bobo Dioulasso, the country's economic capital, witnesses said.
The military action was the first time since unrest broke out in the armed forces in March that force has been used against the mutineers, who are usually demanding extra pay in the poor, landlocked west African country.
Shortly before 10:00 am (1000 GMT), soldiers of the Regiment of Presidential Security (RSP), who arrived in the southwestern town overnight, went into action, according to residents.
They "have practically encircled the (military) base. They're on all the roads that lead up to the base and have gone in there to search out the soldiers inside," one resident told AFP.
"I saw elements of the RSP who were shooting in the air on their way towards the base. We were really scared," another said.
One witness said that at the same time "heavy weapons fire" could be heard from the direction of the governor's offices and the hospital, not far from the Ouezzin Coulibaly camp where the mutineers are based.
The night was marked by a lot of shooting into the air and renewed looting on a big scale, residents said. The mutineers have been causing havoc and pillaging shops in Bobo Dioulasso since Tuesday.
On Wednesday, the government, confronted with its worst crisis since Compaore came to power in a 1987 military coup, called on mutinous soldiers to show restraint and called for talks, stating that it envisaged "measures to re-establish the authority of the state."
The siren of the city hall sounded shortly before the soldiers of the RSP went into action, in an intended warning to people to go home and stay off the streets.
At least 15 people were admitted to hospital with injuries since Thursday, according to a medical source non Friday. Previously, 15 others had been treated after being struck by stray bullets.
One resident said that overnight Thursday soldiers went "into every district and they were shooting everywhere."
"Part of the market has been sacked," mayor Salia Sanou said, shortly after the presidential guard intervened. "There is a lot of damage. We have to free the people and protect their property."
The local governor has placed the town under a curfew.
Mutinies over pay have now spread to all the military bases of this nation of 16 million people and the government has generally responded by giving out bonuses.
During the uprisings, soldiers have made no political demands nor shown any intention of seeking to overthrow Compaore's regime, but the government has also been faced by social protests over high food prices, unemployment and the looting of property by troops.
In a bid to quell unrest since February, Compaore has fired army and police chiefs and formed a new government, naming himself defence minister, while promising subsidies on basic commodities and other urgent measures.
© 2011 AFP