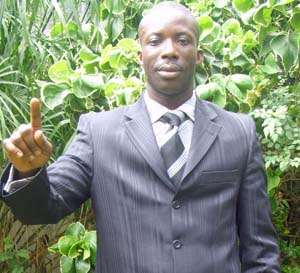 THE ILLICIT sexual exploits of Pastor Nicholas Osei, popularly known as 'Kum Chacha,' the founder and leader of Heaven Gate Chapel in Kumasi, became public knowledge on Monday evening when he was caught red-handed with a married woman in a hotel room.
Kum Chacha was allegedly caught trying to force Gifty Acheampong to have sex with him in Room 20 of the Sanbra Hotel at Adum at about 7pm.
The popular man of God, who preaches on several radio stations in the Ashanti regional capital including Fox Fm, was said to have invited the victim to his hotel room for a counseling session.
This, according to Gifty, was after her friend, one Dorcas, a member of Kum Chacha's church, had invited her to the church a couple of weeks ago for prayer and counseling.
Gifty alleged that the pastor initially called her in the church for counseling, where he unzipped his trousers, removed his manhood and ordered her to fondle it, a demand she turned down and consequently left the room in anger.
She pointed out that immediately she entered the room in the church, Kum Chacha remarked that she was extremely beautiful and that he was very much interested in her big breasts.
Gifty said later, her friend told her the pastor had demanded that she (Dorcas) also fondle his penis when she went for counseling.
The 21-year-old married woman said a couple of days after the first incident, Kum Chacha called her on the phone and invited her to the Sanbra Hotel for another counseling session.
Sensing danger due to her first experience, Gifty noted that she informed her husband, Michael Sekyere, who gave her the green light to respond to the call and that he would be around to save the situation in case of any eventuality.
Because of this, Gifty, who went to the hotel located at Kumasi's central business district alone, communicated the room number the pastor was lodging in to her husband.
According to her, she kept communicating with her husband till Kum Chacha invited her into the room and forcibly seized her mobile phone and switched it off.
Gifty noted that the pastor allegedly told her that come what may, he would have sex with her and that it was better she cooperate to avoid any unforeseen circumstances.
The woman said since she was not ready to succumb to the man of God's sexual demands, she resisted his advances to the point where it degenerated into a struggle.
Meanwhile, her husband, who was not hearing from her any longer, coupled with the fact that her mobile phone was switched off, followed up to the hotel together with a couple of friends, she narrated.
She said when her husband and his friends made their way into the hotel and overheard sounds of a struggle in the room, they tried to force the door open, a development which attracted the attention of hotel staff.
Gifty noted that the hotel staff managed to sneak Kum Chacha out through the emergency exit but when her husband and his friends gained access to the room, they discovered nine mobile phones, 50  passport pictures of women,  a man's boxer shorts and other female underwear.
A large crowd soon besieged the hotel premises when information got round that a pastor had been caught attempting to rape a married woman there.
Gifty, together with her friends and her husband's friends, went straight to the Kumasi Central Police station and lodged a complaint, after which Kum Chacha reported himself to the station.
Michael Sekyere told media men that Kum Chacha had sent a team of pastors to plead with him to drop the case but he insisted that the pastor write his statement for the law to take its course.
Kum Chacha, who reported to the station on Tuesday morning to write his statement, has denied the allegation, describing it as a calculated attempt by his detractors to cause public disaffection for him.
Chief Inspector Mohammed Yusuf Tanko, the Ashanti Regional Public Relations Officer (PRO) of the Ghana Police Service, confirmed the story when contacted and indicated that investigations would be launched into the case.
From Morgan Owusu, Kumasi