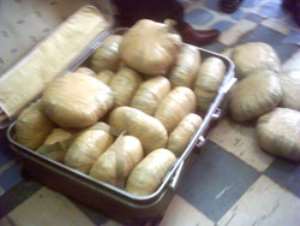 The Volta Regional Police Commander, Assistant Commissioner of Police (ACP) Mr. Alex Bedie, has assured the people in the region of dealing swiftly with drug dealers, and called on them to cooperate with the police by giving information that would lead to their arrest.
ACP Bedie said the dealing in drugs, particularly 'wee', has been the commonest business among the people in the South Dayi District, because they depended on it as one of the most common means of enriching themselves quickly, and warned that the police were fully prepared to deal with those in the business.
He made the call when the police impounded a taxi with registration number GR 7208-09 at Toh-Kpalime in the South-Dayi District, heading towards Accra, where a 30 year old man, Forster Atubrah, was identified by the driver as the owner of the items and arrested.
ACP Badie disclosed that the value of the compressed indian hemp in a suitcase was valued at about GH¢460, and said the police were more vigilant than ever before, because of the clever ways dealers had adopted to avoid the security agencies.
The Regional Police Commander said the suspect would be processed for court to ensure that the law deals with him, and cautioned other dealers and prospective youth with the mind to engage in what he called the illegal activities to enrich themselves, to stop because the police were on high alert in the region.
Pix: The compressed 'wee' in the suitcase at Volta Regional Police headquarters