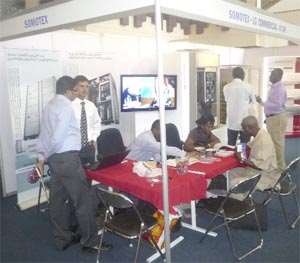 Somotex Ghana Limited, the authorized local representative of LG Electronics Incorporated, Korea in Ghana, has unveiled the latest LG product onto the Ghanaian market.
The new product, LG MULTI V PLUS III VRF Air-conditioner, is LG's newest HVAC solution in the rapidly growing air-conditioning segment of the company.
At the maiden edition of the Water Africa and West Africa Building and Construction Fair, which took place at the Accra International Conference Centre, it was revealed that MULTI V PLUS III is crucial to LG's strategy to secure US$ 10 billion in global sales for its air-conditioning company.
The MULTI V PLUS III boasts of three key consumer benefits, Higher Energy Efficiency, Largest Outdoor Unit capacity and Longest Piping Length.
The unit's energy efficiency ratio, boosted by LG'S unique inverter compressor- Hi Pressure Oil Return technology, delivers a COP level of 4.6, one of the highest in the industry.
With an increased piping length of 1,000 meters between the farthest indoor unit and outdoor unit and up to 20.0 HP capacity single outdoor, the MULTI V PLUS III is extremely simple and straightforward to install and maintain.
The launch of the LG MULTI V PLUS III in Ghana offers the local construction & building industry the best possible option for integrating optimal air-conditioning solutions in building designs.
A wide selection of Indoor Units in different capacities helps in effective design and zoning of air-conditioning loads to maximize operational cost savings.
Somotex Ghana is LG's long-term partner with offices at all key cities in Ghana.
It noted that its large base of skilled technicians can ensure optimal design solutions for its valued customers in Ghana.
By Emelia Ennin Abbey