Way Cleared For Health Professionals To Do Service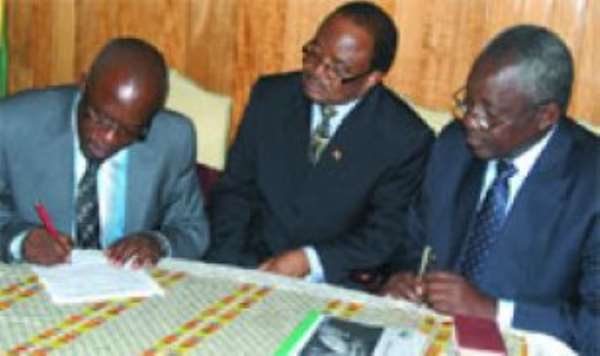 Preparations are underway to place all categories of health professionals on the National Service Scheme (NSS) this year.
A memorandum of understanding (MoU) to that effect has been signed in Accra between officials of the ministries of Health (MOH) and Education and the NSS under which the MoH is to provide the NSS with an updated list of all accredited health facilities where health graduates would undertake the service.
Dr Sylvester Anemana and Major Tara Mahama, Chief Directors of the MoH and Education respectively, signed on behalf of their sector ministers while the Executive Director of the NSS, Mr Vincent Senam Kuagbenu, initialled for his organisation.
Some officials from the Nurses and Midwives Council of Ghana, Medical and Dental Council of Ghana and representatives of allied health witnessed the event, which had been described as historic.
The terms and conditions of the MoU, among other things, stipulate that the NSS would issue national engagement/appointment letters to the health graduates in consonance with the agreed posting to the identified or accredited health facilities.
It further states that the health training institutions shall, on yearly basis, provide the NSS with the list of all final-year graduates who have completed their period of training and that the period of service shall, if necessary, be divided among different accredited health institutions as appropriate in consultation with the NSS.
Dr Anemana, who described the event as historic, hailed the process leading to the MoU and said, over the years work undertaken by various categories of health workers had not been considered to constitute national service.
That shortfall, he pointed out, necessitated the need for stakeholders to initiate discussions to ensure that all graduates from health training institutions were placed on the NSS as the law required.
He said the collaborative effort marked a new era for health professionals and expressed the hope that the process would in the long term, help in resolving the shortage of health workers in rural communities.
Mr Kuagbenu for his part expressed his outfit's commitment to always ensure the deployment of qualified professionals to areas in the country where their services were urgently required.
He implored all those involved in the process to work in the collective interest of advancing the cause of improving the human resource capacity of institutions.