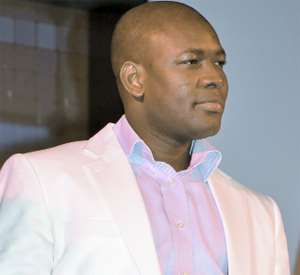 rLG Communications, a mobile manufacturing company last week made history after it became the first indigenous firm to inaugurate a mobile phone/lap top assembling plant in Ghana and the entire African continent.
The ultra-modern plant forms part of rLG's vision to empower the youth of Ghana and Africa with the needed applied ICT skills to take a leadership role in spearheading the economic emancipation effort.
It is also to facilitate the assembly of more mobile phones, as well as provide more jobs for the youth.
'We are very much aware of the enormous responsibilities on us as a business when we decided to venture into the assembling of mobile phones in Ghana here because that area has been a preserve of the whiteman for years. However, for us in rLG we believe that the youth must be at forefront in projecting the positive image of Ghana to the rest of the world.
The patronage and feedback from our cherished customers both in Ghana and across the sub-regions shows a growing confidence the capabilities of Ghana and Ghanaians as a whole,' Roland Agambire, Chief Executive Officer (CEO) of rLG Communications and Acting chairman of AGAMS Group of Companies said.
He noted that the time has come for Ghanaians to patronize locally-made products.
Mr. Agambire said his outfit plans to set up an ultra modern manufacturing plant by 2012 using the by-products of the down-stream oil industry as the main input to fabricate its hardware components.
Other plans include the establishment of a first-class technological research center to train and export technological expertise to the rest of the world, employment of 30,000 youth under the ICT Module of the National Youth Employment Programme, as well as listing on the Ghana Stock Exchange (GSE) by 2011.
About 30,000 youth were trained by rLG under the NYEP ICT module and it has fashioned out an integrated and robust exit strategy for the beneficiary youth under the module.
The beneficiaries, Mr. Agmabire noted, would be engaged as instructors in the ever-expanding rLG Institute of Technology as technicians and factory hands on the plant, as well as set up as independent sales and service centers in demarcated territories.
Concluding, the indefatigable CEO encouraged Ghanaians to repose their trust and confidence in them, adding 'We are very much convinced in our ability to deliver on our promise.'
Meanwhile, government has approved additional 24,000 beneficiaries to undergo the ICT module under the NYEP programme.
According to Clement Kofi Humado, Minister of Youth and Sports, this will encourage potential beneficiaries to turn-out in their numbers and register to get trained.
Another module will be rolled out to train graduates from polytechnics and universities in the development of software solutions to drive the economy and governance.
rLG Communications was established in March 2001 and has so far spread its tentacles to The Gambia and Nigeria.
By Charles Nixon Yeboah