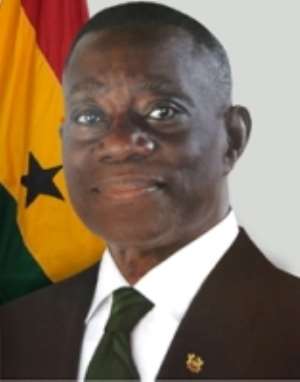 President Mills

President John Atta Mills on Friday appealed to the religious community to continue to pray for national peace with an assurance that he would not do anything that would destroy the nation as it marched towards the 2012 general elections.
He said the government would adequately resource the Electoral Commission to make the 2012 election free, fair, credible and transparent, adding that as the Leader of the ruling National Democratic Congress (NDC) and the Head of State, his Administration would not indulge in any act that would plunge the nation into disaster.

President Mills said this when he addressed the 39th Session of the General Council of the Church of Pentecost at the Pentecost University College at Sowutuom in Accra.

The Session is being held on the theme "Being Led By the Spirit of God."

President Mills praised the Church of Pentecost for its Christian mission of evangelism in addition to its positive role in national development.

"Indeed I appreciate very much the support of the church in partnering government to build the Better Ghana we yearn for," President Mills said.

President Mills reiterated the need for Christians to allow themselves to be led by the Holy Spirit in order to be able to function according to God's will.

"The Spirit of God is the searcher of the thoughts and intents of men and directs us on the path of righteousness," he said.

"If those who profess to be followers of Christ would humble ourselves and allow the Holy Spirit to guide lead us, they would not falter in their endeavours."

The President urged the Church to continue to hold the conscience of society and appealed to Ghanaians to be motivated by acts and deeds pleasing to the Lord for the continuous success of the nation.

President Mills also called on the religious community to offer constructive suggestions to Government.

He appealed for continuous prayers for stability of the nation and that of its neighbours.

President Mills said only truth devoid of violence, acrimony, vilification and abusive language would build peace and put the nation in a better light.

Apostle Dr Opoku Onyina, the Chairman of the Church, said the Church was putting up 5,000 seater convention centre at Gomoa Fetteh in the Central Region, and appealed to Government to bring more social amenities to the area.

He appealed to politicians and leaders to be spirit-filled and fear God rather than dishonesty and immoral lifestyles.

"God is looking for people who would practice justice and offer right justice at the right time," Apostle Onyinah said.