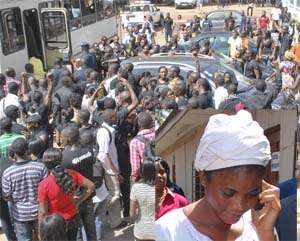 Nine students of the University of Ghana, Legon, who have been dragged to an Accra Circuit Court for unlawfully locking up a suspected thief, Amina Haruna, in a room at Mensah Sarbah Hall Annex B where they allegedly inserted their fingers into her private parts, yesterday denied any wrongdoing.
The accused persons pleaded not guilty to conspiracy to commit crime, assault by imprisonment, indecent assault and causing unlawful harm in a court presided over by Mrs. Georgina-Mensah Datsa.
The accused persons are Francis Wiredu Attah, Tornu Mark Dickson, Morris Awuregya, Nana Osei Asiamah, Gideon Agyei Ayiridaga, Aboyadana Amobilla, Afeatse Godfred, Evans Addai Boateng and Obed Banini.
The police are hunting for Alexander Aryee, Benedicta Boamah Brohim and Jason Boamah Amponsah, three suspected accomplices who have managed to go underground since their colleagues were arrested.
The accused persons were granted bail in the sum of GH¢9,000 while the case has been adjourned to May 30, 2011.
DSP Kofi Blagodzi, the prosecutor, told the court that the complainant was a petty trader residing at Madina while the accused persons are students of the university.
On Wednesday, March 30, 2011 at about 11:30pm, the complainant Amina Haruna, was at the Mensah Sarbah Hall Annex B, accused of stealing a laptop and mobile phone belonging to one of the students.
He said after the items were retrieved from the complainant, she was locked up in a room until 3am when she was brought out and beaten severely, after which she was stripped, with some of the students forcibly inserting their fingers into her vagina.
The prosecutor said Amina bled profusely before the campus security came to her rescue and handed her over to the police who in turn gave her a form to attend hospital for treatment, after she reported her ordeal to them.
After she was treated and discharged, the police realised that video recordings and photographs of her were made by some students which were later distributed to media houses and also put on the internet.
The police officer said the accused persons were identified in photographs and later at an identification parade held at the Police Criminal Investigations Department (CID) headquarters, by the complainant.
He said the students, after their arrest, denied the offence in their caution statements and were arraigned after police investigations.
The students were accompanied by hundreds of their colleagues who arrived in a big bus in a show of solidarity. They sang and chanted, demanding the whereabouts of their colleagues but were prevented by the police from entering the court premises where the accused persons were being kept in mini-cells.
Clad in black and red outfits, they sang 'jama' songs and danced at the entrance for close to two hours before they finally returned to campus.
Amina, who was in court, covered her face with a shawl and was quickly escorted by the police to a waiting van to prevent journalists from taking pictures of her.
By Fidelia Achama