President Mills Picks Nomination Forms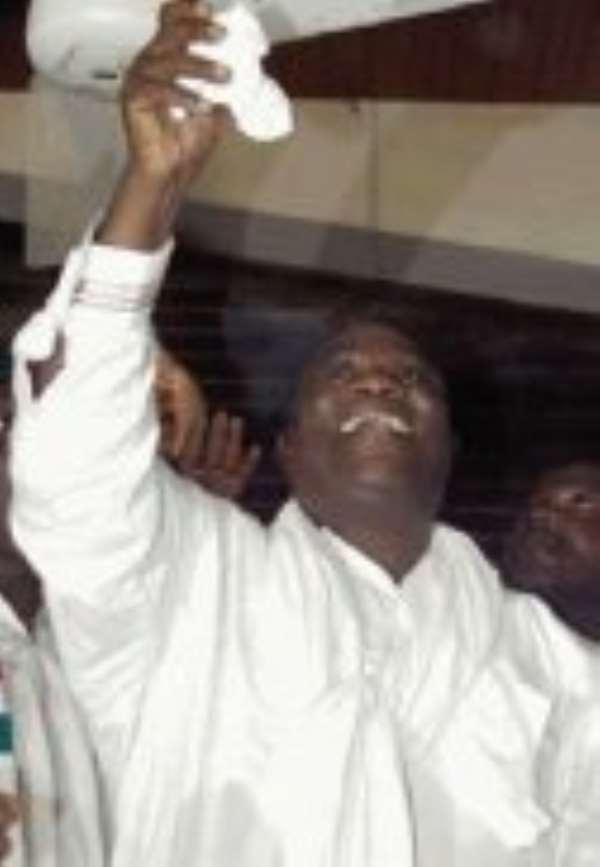 President John Evans Atta Mills

The President, Prof. John Evans Atta Mills became the first person to stake claim for the National Democratic Congress (NDC) party's flagbearership position for the fourth consecutive time, when he picked his nomination forms at the party's headquarters in Accra today.

'I had to take a break from performing my national dutites to pick nomination forms this morning to contest the party's presidential primary,' he said.

Between 2000 and 2008, President Mills contested on the ticket of the NDC and today collected his forms to make another attempt to get himself elected at the party's presidential primary scheduled for July 8 to 10 at Sunyani, the Brong-Ahafo capital.

President Mills contested the 2004 and 2008 election when the NDC was in opposition . While it lost the 2004 election to former President John Agyekum Kufuor, he defeated the New Patriotic Party (NPP) candidate, Nana Addo Danquah Akuffo-Addo, in the 2008 polls.

However, the NDC is also making history since the inception of the Fourth Republic in that, it is the first time that a female in the person of former first lady, Nana Konadu Agyemang Rawlings has picked nomination forms to contest the presidential primary of a political party.

Welcoming President Mills to the party office, the General Secretary of the NDC, Mr. Johnson Asiedu Nketiah said, a former First lady picked her forms Tuesday, making President Mills the second person to do so.

He also informed President Mills that the party at a recent news conference, spelt out guidelines intended to regulate the conduct of the personalities who would be cleared by the party to contest as candidates in the forthcoming presidential primary.

For his part, President Mills thanked the teeming supporters of the party for reposing trust in him.

He said what was paramount to him was the unity of the NDC which he said would serve as a catalyst to ensure another victory for the party at the next presidential election.

President Mills called for a clean campaign devoid of insults and mudslinging, stressing that a campaign of insults would be counterproductive to the aspiration of the party.

He said the trading of insults, particularly, among the contestants, tended to create bad blood among their supporters, cautioning that the ugly situation if not stopped, would go a long way to undermine the cohesion of the party.

President Mills predicted a landslide win at the primary since the mass of the party's leading members and constituency executives had kept faith with him.

President Mills was accompanied to the headquarters by Mr E.T. Mensah, Employment Minister, Mrs Cecilia Johnson, Member of Council of State, Mrs Betty Mould Iddrisu, Minister of Education, Mr. J.H. Owusu Acheampong, member of the Council of State, Ms Sherry Aryettey Minister of Environment, Science and Technology and others.

He later launched his presidential campaign.