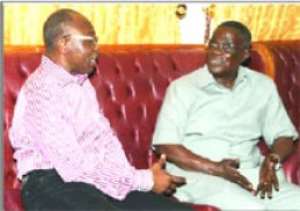 President J. E. A. Mills in a discussion with Mr Eddie Annan at the Castle, Osu.
A leading member of the National Democratic Congress (NDC), Mr Eddie Annan, has lauded the leadership style of President John Evans Atta Mills, which has culminated in the country's improved economy.
He described the President's style of governance as unmatched and underscored the need for total support for the President's better Ghana agenda.
He said the President's dynamism, coupled with his sense of approach to issues, had endeared him to the vast majority of Ghanaians.
He, therefore, pledged his support towards the renewal of the President's mandate for a second term in office.
Mr Annan, a businessman and contestant in the 2007 NDC flagbearership, made the remarks when he led a business delegation to call on the President at the Castle, Osu in Accra, Wednesday.
The visit came ahead of the President's schedule to pick nomination forms on Thursday, to contest the NDC flagbearership.
"President Mills's broad consultations with people on the quiet and other diplomatic manoeuvres, both within and internationally, have won the hearts of many, particularly the business community," Mr Annan stressed.
"I must endorse President Mills's style of leadership. This is because within two years he has done a lot for the country and is strongly on course in delivering on his better Ghana agenda," Mr Annan said.
He expressed delight at the fact that the President had done a lot to change the pattern of politics in the country.
He was of the view that "whoever picks the forms and contests the flagbearership" and loses must be ready to support the President to improve the lives of Ghanaians.
Mr Annan said it was the President's belief that whatever happened in July, we must all come together and build a united front and fight the enemy, which are hunger and squalor in society.
He said the ability of President Mills to live with all Ghanaians and those who contested with him in the 2007 flagbearership was "a mark of nobility and statesmanship" and urged him to continue with the good work.
President Mills, for his part, thanked Mr Annan for the visit and reaffirmed his resolve to work conscientiously to develop the lives of majority of Ghanaians.
The Communications Director at the Presidency, Mr Koku Anyidoho, commenting on the current political atmosphere, said, "The flagbearership is not the end in itself but a means to an end."
He said healthy competition was a way of deepening the nation's democratic culture, stressing, "There is no doubt that after July the President will continue with his open-door policy."