The Dangerous and Frightening mindset of President Mills.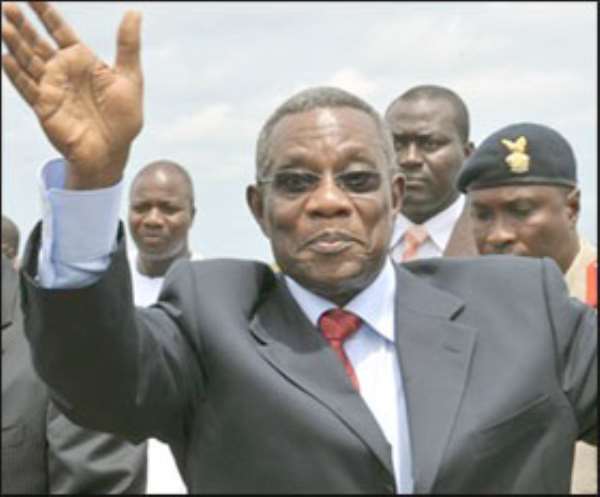 Wonders, they say, shall never end. Otherwise, how do you explain a situation where the so-called enlightened and educated members in the nefarious contraption could deliberately misinterpret and give a twist to Nana Addo Dankwa Akufo-Addo's "All did be die" statement and make it appear as if the utterance was reckless and portends grave danger for the unity of the country
I have deliberately decided to re-ignite a discussion on the "All die be die" comment in order to expose the NDC for what they really are. My research into some back numbers of pro-NDC papers like The Ghanaian Lens, The Crystal Clear Lens and The Catalyst have resulted in startling revelations. The Nefarious and Cancerous contraption now have a difficult task of explaining to Ghanaians why they unleashed their venom and Chemical Alis on the President in-Waiting and Flag-bearer of the New Patriotic Part, Nana Addo Dankwa Akufo-Addo while some high ranking members from their contraption had made similar statements much earlier.
Nana Akufo-Addo's statement needed no dictionary to arrive at the meaning. It was a wake-up call to members and sympathizers of our Great and Noble Danquah-Busia-Dombo Tradition to e alive to their responsibility by ensuring that the will of the people is strictly adhered to. If they don't have mischief in mind, I do not think anybody of sound mind will confuse the meaning of that statement. It was a caution to everybody, especially members of NDC not to use their power of incumbency to harass or intimidate and cow the support base of the NPP to pave way for the NDC to rig the elections. It was a strongly worded statement from a General to his troops to rise to the occasion and resist any attempt by the NDC to make them second class citizens or strangers in the land of their birth.
For the sake of clarity, I will use the same arguments members of the NDC used to justify their stance when they were in opposition. To support this contention, let facts be supplied a candid audience.
In the Ghanaian Lens of Tuesday, 22nd May, 2007, No 150 was this bold headline. "Test our Tolerance Level and see – Honourable Haruna Iddrisu Dares NPP. The Ghanaian Lens was reporting what Haruna Iddrisu had said on Radio Gold the previous day.
In the Monday, 21st January – Sunday, 27th January, 2008 edition of The Catalyst was also this sensational headline: "We'll Fight Back if they dare attack us". The statement was attributed to Mr. Kwesi Pratt Jnr., Managing Editor of The Insight and now a member of Mills "kitchen cabinet". "Mr. Kwesi Pratt has said that those who are threatening the lives of members of the then opposition including him should know that they could not be cowed by those threats, and that they will fight back with all the strength at their disposal should any of them be attacked." He said those issuing the threats should know that "our hands are not cut. We will fight back, if we are attacked".
Legitimate, one might say. What is the difference between what Haruna Iddrisu and Kwesi Pratt said and what our President- in- waiting, Nana Addo Dankwa Akufo-Addo said? Not much. If there is any at all!
Another extract was taken from Uncle JB's Column and was reported on Tuesday 4th December, 2007 edition of The Ghanaian Lens. "Uncle JB supports Ohene Agyekum. I heard the Ashanti Regional
Chairman of the NDC, Daniel Ohene Agyekum, on air last week and my heart was filled with so much joy. I was very excited to hear a leading member of the NDC speak the way the man spoke.
"You see, until the NDC makes it succinctly clear to the NPP that the party will no longer countenance the NPP declaring itself winners, the message would not sink that the NDC is ready for war. Why? Did Ohene Agyekum not make the statement based on a certain premise?"
I also ask this question: Did our Flag-bearer and President in-Waiting, Nana Addo Dankwa Akufo-Addo not make that pronouncement based on a certain premise?
Ohene Agyekum continued: "If the NPP Rigs the elections, Ghana would burn". What did Nana say? He only enjoined his support base to defend themselves when they come under attack, just as Kwesi Pratt said they would defend themselves if they were attacked. Is there something wrong with that? And why should NDC members attack NPP members? Just to make it possible for them to engage in electoral fraud of the highest order. After all, did Alhaji Bature not make that reckless statement that the NDC has always beaten the NPP when it comes to open confrontation?
So, does Professor John Atta Mills, as President, whose action of placing the entire Ghana Armed Forces on Red Alert resulted in financial loss to the state expect members of the Great Osono Tradition to fold our arms when hoodlums from NDC attack us with the sole intention of infecting us with their cancerous syndrome? No! Not me! And obviously none of the members of our noble tradition would fold his/her arms and allow him/herself to be butchered as they did to the four NPP members who were cut down right in front of Agbogbloshie Police Post. The fumbling and wobbling Mills government has told us in clear unmistakable language that those of us, who do not share in his own political persuasion, will have no protection under his inept government. What then do we do under such a circumstance? Come together to defend ourselves with all legitimate means at our disposal. After all, there is truth in the saying that, "unity is strength". Our flag-bearer and President in –waiting has given us the green light to resist oppressors rule, just as the President gave the red light to the Ghana Armed Forces.
Now continue with the Lens analysis. "The logical corollary to that is, if the NPP does not rig the election, Ghana would not burn". So it is with Nana's "All die be die" mantra. If NDC hoodlums do not attack members of the NPP, we will have no cause to fight to defend ourselves. If NDC thugs and hoodlums do not attempt to snatch or steal ballot boxes from polling stations, there will be no confrontation between the two parties in an attempt to retrieve ballot boxes.
"If Nana Ohene Ntow knows that his NPP will not rig the elections, why should he be having nightmares? Ohene Ntow has nothing to be afraid of if the NPP has no plans to rig the elections. If you are not a thief, why should you take to your heels, when you hear of people shouting, thief, thief?"
But that logic in the Ghanaian Lens is flawed or lopsided. If you are not a thief, but hear people shouting, 'thief. thief' in Mills Ghana today, my brother, just look for some obscure place to hide your poor miserable self because of the dangerous and frightening mindset of the President and his appointees, including our own "Chemical Ali".
We cannot play the ostrich and pretend that all is well. This is the worst government we have ever had since the country came into being. We were better off even under colonial rule than we are experiencing under this corrupt, moribund, myopic, vindictive and inept administration. If you don't know, go ask the Rawlingses. The former First Family cannot sleep with even one of their eyes closed because of the dangerous and frightening mindset of the devotee of Joshua Temitope. And yet they tell us that the President is Asomdwehene or King of peacemakers! If they could do this to the Rawlingses who unilaterally made President Mills what he is today, what will they not do to those of us who do not share in their own political persuasion? Under the British, when Akyea Mensah, Chief of Apedwa was murdered, the British found the killers after a painstaking investigation. They did not go on a dawn raid to arrest people on mere suspicion.
Read on. "Ohene Ntow seems to be aware of plans by his party to rig the election that is why he is so worried about the words of Ohene Agyekum". Let me also state here that perhaps the NDC has plans to rig the elections through violence and intimidation as Baba Jamal did during the 2008 elections and the run off elections in six polling stations last year. And that perhaps explains their restlessness with our Party Flag-bearer and President in waiting's wake-up call to Party members and sympathizers to be vigilant at polling stations all over the country on Election Day, and also to defend themselves with all legitimate means at their disposal when they come under any form of attack. There is a saying that "old people get restless or feel uneasy when dry bones are mentioned. If you are not a thief, why should you complain if your neighbor buys a watch dog?
We had a glimpse of the mindset of the President and his men, when Nii Lante Vanderpuye once stated during the newspaper review segment on Metro TV that the NDC will use every method at its disposal, including even the unorthodox to ensure that the President and the NDC get a second term.
I would like to shed some light on the fear that has engulfed the NDC with the re-emergence of Nana Akufo Addo as our flag bearer. The number of party faithful and floating voters that go to pledge their unalloyed support on daily basis is giving the non-performing fumbling and wobbling Baba Go Slow, aka Professor Do Little and his sycophants' sleepless nights. Hence, they must jump at every utterance of the President-in-waiting, give it a twist and negative coloration. But the Ghanaian voter is very enlightened and has seen through the antics of these desperados.
Let me repeat for the avoidance of doubts that the Flag bearer of the New Patriotic Party and President in –waiting, Nana Addo Dankwa Akufo-Addo will give inspiring and pragmatic leadership when he assumes the mantle the Presidency on 7th January, 2011. Ghanaians will feel safe under his presidency and only those who have skeletons in their cupboards will attempt to find some hiding places outside this planet.
Please join me as we go through the Ghanaian Lens of Tuesday, 26th June, 2007 (back page) where we come across the screaming headline: "NDC Caucus Honours President Rawlings. " I want to assure you (ex-President Rawlings) that there are a lot of people who are ready to die for you. We will continue to die for you. Nobody can erase you from our memory" The speech was attributed to Honourable Bagbin, then Minority Leader, but now Minister for STR Deal.
In the same write up was a tribute by President John Evans Atta Mills, then flag-bearer of the NDC. Hear him showering encomiums on Ex-President Rawlings. Rawlings "greatest attribute is his respect for every single person he comes into contact with, which shows his compassionate nature".
What happened to the contract between the learned Professor and the ex-President? It has been unilaterally abrogated by the President, acting on the advice of his power brokers at the Castle. Today, they have gone their separate ways. Friends today, Enemies Tomorrow" so the saying goes.
Nobody picked a quarrel with the then Minority Leader, (who has openly confessed that he had slept with his wife's sister), when he said he and others would die for Rawlings. Why should these same people complain when members of our noble tradition say they would die for the President in waiting, Nana Addo Dankwa Akufo-Addo? You see how terrible and treacherous these NDC members could be. But make no mistake about it; NPP members will go to where Nana sends them and are ready to sacrifice their lives for the entrenchment of democracy in the country.
Nana Akufo-Addo's exhortation to his party members who have borne the brunt of senseless aggression from the NDC was to caution the inept, visionless, myopic fumbling and wobbling Mills administration to tread carefully on electoral matters and not to take the docile nature of Ghanaians for granted. The fumbling and wobbling Mills government has not performed, but wants to perpetuate itself in power and Ghanaians are saying, no, enough is enough. Even the Founder of the party, Ex-President Rawlings has stated in no mistaking terms that the NDC lost the 2012 General Elections Eight months ago. What is there to be assessed if the Party's own Founder has given such a damning verdict?
Yes, Ghanaians, including their the Rawlingses are fed up with the NDC and if the President and his team have any dignity left in them, they should begin to prepare their handing over notes and leave the political scene peacefully when they are rejected at the polls in December, 2012. The handwriting is clearly on the wall and only the blind will refuse to read it. What even gave them the impression that it will be Mills that the Party will present for the 2012 Presidential Elections? President Mills has a major bridge to cross. He has a date to keep with Nana Konadu Agyemang Rawlings to know who is who in the NDC.
The sycophants and Greedy Bastards around the Presidency have become very arrogant and continue, on daily basis, to make reckless, and irresponsibly statements, thereby dragging the image of the presidency into disrepute. All such charlatans and hangers on will not be countenanced under Akufo-Addo's presidency.
I have given instances where the NDC, then in opposition felt they were being marginalized. That was their perception, which was so strong that Daniel Ohene Agyekum said Ghana would burn if the NPP tried any funny antics during the elections. The President did not put the GAF on even a 'quarter alert'; neither did Daniel Ohene Agyekum have an encounter with the BNI or even the Police. You see the difference between the matured way Kufuor handled the matter and the reckless handling of the situation by our current President. Has it ever occurred to you what it means when the whole armed forces of a country is put on red alert? I will not be proved wrong if I suggest that, those advisers and sycophants around the presidency are mere toddlers and jokers.
For a long time, the NDC had taken our patience and maturity as a sign of weakness. Is anything wrong with asking your core support base to defend themselves when they come under attacks? The concept can be likened to asking communities to form vigilantes to protect life and property in the neighbourhood. The NDC, knowing fully well that their plans to unleash violence on their political opponents will not see the light of the day felt the best thing to do was to unleash their rabid dogs after Nana. But they have failed woefully.
The obnoxious policies introduced by this irresponsible government have affected all aspects of our lives especially in Football which is the only unifying factor in Mills Ghana. As I write this feature, the President's wickedness has led to the elimination of Ghana from all Age Competitions. The initial success we chalked in the early part of Mills administration was the result of pragmatic programmes and planning initiated by the Kufuor's administration. Our teams from the Starlets, the Satellites and the Meteors and that of the Princesses and the Black Queens have all fallen like some packs of cards. Our teams have become the whipping boys of other African Countries – thanks to obnoxious policies put forward by the inept Mills administration. The most shocking aspect of the whole thing is that war torn Sudan and undernourished Ethiopian teams came to our own papa land to force a bitter pill on us.
Can the inconsiderate and inept administration tell Ghanaians where the compensation paid to the families of Ghanaians who were murdered by the Gambian Authorities is? Has it been paid to the families of the victims? What steps have the administration put in place to ensure that one of the alleged murderers of Issa Mobillah who the Government deliberately allowed to escape is re-arrested? What is the Government doing about Twumasi Appiah, NDC MP for Sene Constituency, who is alleged to have defrauded a foreigner of some 'opepepeepee'? So, the NDC too harbours fraudsters and con-men in their midst? Remember, justice delayed is justice denied.
Come 2012, NPP members will not be cowards. We shall police the ballot boxes with the eye of the eagle. We shall remain at the various polling stations after casting our votes until the votes are counted and recorded. We shall use every legitimate means at our disposal to ensure the sanctity of our votes. Our battle cry will be "all die be die'. It is an aspect of Positive Defiance as Fiifi Kwetey tells us.
Come 7th January, 2013, our President in waiting, Nana Addo Dankwa Akufo-Addo, will be sworn into office and Ghanaians would breathe a new lease of life. Corruption, favouritism, tribalism, vindictiveness, over-invoicing, selective justice, arbitrariness, use of insult and vulgar language, filth, diseases like cholera, epileptic power supply and many other negative traits would be brought to the barest minimum if not eliminated.
A new chapter will be written in the life of every Ghanaian. It will be a chapter of Hope, Respect, and Hard work, Unity, Success and Prosperity. All die be die is a wake up call to Ghanaians to rise up and fight for progress and what legitimately belongs to them. Nana Addo Dankwa Akufo-Addo leads. Will you follow? God bless you as you make a well- informed decision.
Daniel Danquah Damptey ([email protected]([email protected]) 0243715297