NDC lost 2012 in the first week of Mills' reign - Rawlings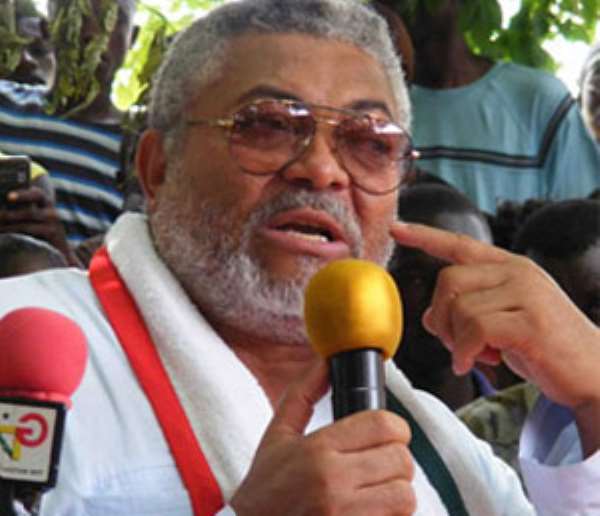 Former President Jerry John Rawlings
The governing NDC lost the chance to retain the presidency for 2012 in the first week of President Mills' administration, according to former President Rawlings.
Mr Rawlings, who founded the NDC, however failed to explain how he arrived at this conclusion, promising to do so during the celebration of the June 4 event for 2011.
Speaking at the launch of his wife's campaign for the NDC flagbearership slot at the Accra International Conference Centre on Wednesday May 4, Mr. Rawlings said the NDC needed to replace Professor Mills in order to win the 2012 elections.
'We started losing 2012 within the first week of Mills' Government. I will explain all this when we meet on June 4, to demonstrate to you the high adrenaline that was in our people into the election and how that atmosphere should have been utilised.
"But obviously, there are some of us who are afraid and intimidated by the power of the people that is precisely what we need to repair the problems that had been caused in the past eight years'.
'We finally lost 2012 eight months back. So until we change the gear and the driver, and I say this without malice and any disrespect to the Prof. but I guess we all have our limitations… The time has come when the change must take place to enable us rescue this country."
Ladies and gentlemen, it's going to be your responsibility to target some of the delegates that are in your constituencies'.
Mr. Rawlings alleged that executives of the NDC had postponed its presidential primaries several times because research conducted in late 2010 had showed that Mrs. Konadu Rawlings could have attracted a whopping 82% of votes.
'The July Congress should have taken place towards the end of last year but when they did their research they discovered that this lady (Nana Konadu) was going to beat them. That this lady's score was going to be as high as 82 percent because at that time they had simply concentrated on giving positions and contracts to chairpersons and regional executives forgetting that there were thousands of delegates and party members around.
"So they decided to push the Congress to March of this year (2011) so they could do more research but the votes had fallen by 76 percent so they decided to push it to July. They cannot go beyond that because it's embarrassing to them and all of us" he asserted.
Mr. Rawlings reminded delegates of the upcoming Congress not to retain the former law lecturer since according to him, he was going to lose the national election.
'You (Mills) will win but you will go and lose the national election. Let us wake up to the reality on the ground. This reality is on the ground and anybody knows it. If any elections were conducted today, we all know our fate.
Let's stop being selfish and do what we must do. I am not saying it out of spite because I had supported my friend when all the people around him deserted him", he said in a message targeted at the delegates of the July 8-10 Congress to be held in Sunyani.
He also accused supporters of President Mills of seeking to bribe delegates with appointments and cash, and warned their actions would fail.
"The true justice and accountability, respect and trust for one another is what kept us so united and strong over the years. The NPP with all the money could not beat us. If you attempt it (bribery)in NDC, you will be destroyed. We are men of conscience and high principles. Hold onto them and try to adopt your constituencies and tell them to listen to the voice outside.
"Lets not allow ourselves to make this mistake again. It may be painful, nervous and jittery but that is the only medicine we have to take. Let's wake up to the reality. The truth is staring at us in the face but some of our comrades up there seem to be so intoxicated and have lost touch with the reality on the ground.
"The people we call opposition and treated as opposition, don't regard you as such. They regard you as enemies. I will tell you a lot more come June 4' Mr. Rawlings concluded.
Source: Citifmonline