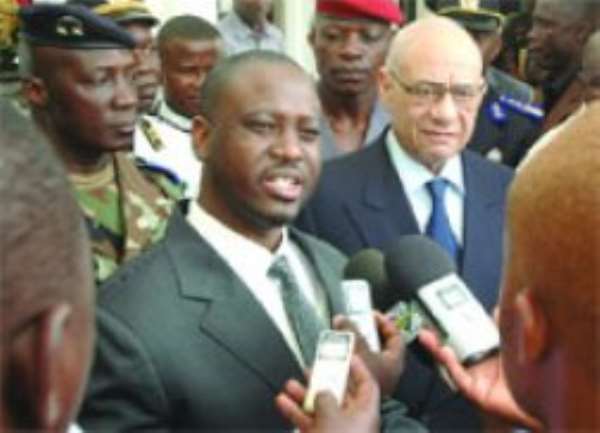 Mr Guillame Soro, the Prime Minister of Cote d'Ivoire, talking to the Presidential Press Corps after his meeting with President John Evans Atta Mills at the Castle, Osu in Accra.
The Ivorian Prime Minister, Mr Guillaume Soro, has debunked claims that Ghana dispatched mercenaries to support former President Laurent Gbagbo in his attempt to entrench his rule during the political stalemate which ensued after the presidential election in Cote d'Ivoire.
He said investigations carried out after the arrest of Mr Gbagbo did not reveal any Ghanaian participation in the conflict.
The Prime Minister, therefore, described the allegations as "palpable lies and unfounded" which must be dismissed outright.
Prime Minister Soro made the statement when he led an Ivorian delegation to deliver a special message from President Alassane Ouattara to President John Evans Atta Mills at the Castle, Osu in Accra, yesterday.
The delegation was also in the Castle to invite President Mills to President Ouattara's investiture which is scheduled for May 21, 2011.
Since the trouble erupted in Cote d'Ivoire about five months ago, President Mills has been making diplomatic moves and personal contacts with the leadership of Cote d'Ivoire towards peace in that country.
Mr Soro commended President Mills for his personal effort at ensuring the return of peace to Cote d'Ivoire.
He said Ghana had contributed largely to the success of the election that saw Mr Ouattara emerging as President, as well as the general development of that country.
"It is for this reason that President Ouattara has asked us to come over and show our appreciation to you and the people of Ghana," he said.
"We are also here to seek your advice on the way forward," he stressed.
On the safety of the former Ivorian leader, Mr Soro said President Gbagbo would be treated with the dignity and respect that an ex-President deserved, saying, "This is a sure way of reconciling the country."
He said a former UN Secretary General, Mr Kofi Annan, and Archbishop Desmond Tutu of South Africa had paid separate visits to Mr Gbagbo, adding, "He is fit and doing well."
Responding, President Mills reaffirmed the government's commitment towards the return of peace in Cote d'Ivoire.
"Ghana and Cote d'Ivoire are like brothers and sisters. Whatever happens in Cote d'Ivoire affects us greatly and so we will do everything to ensure that peace and stability return to that country," he said.
He said he would continue to play an active role in ensuring that Cote d'Ivoire was eventually restored to normalcy.
"It is our hope and prayer that everything will be done to return the country to normalcy," President Mills added.