Boy wins 'presidential handshake'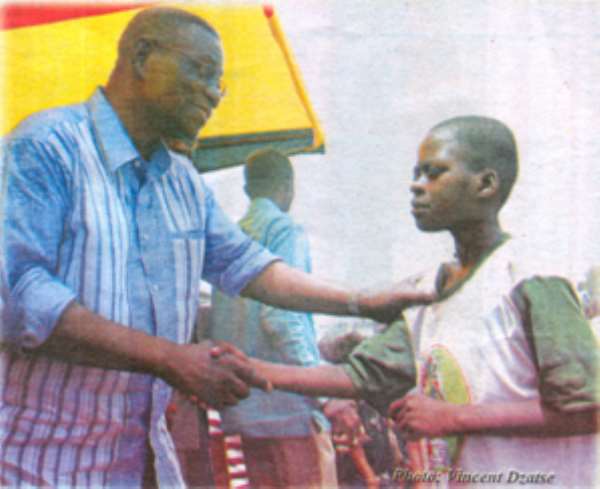 Boy wins a presidential handshake

This picture shows President Mills in a handshake with Danjumah, a nine year-old-boy at Kwame Danso, in the Sene District of the Brong Ahafo Region, during his visit there.
The posture may seem ordinary, but it is not.
Danjumah's sheer determination and courage to shake hands with the President at all cost paid off when he shrugged off attempts by state security details to stop him.
Danjumah is said to have first attempted to evade the security arrangement to get close to the President, but was shoved off.
Undeterred, the youngster made a second effort and this time, he outsmarted the security detail and before one could say Jack, he had mounted the dais, where the President was, but he was again intercepted by the security men.
He achieved his heart's desire when his struggle with the security personnel caught the attention of the President who, learning about the reason for the apparent confusion, obliged the boy's desire to meet him.
During this never-to-be forgotten handshake, President Mills advised Danjumah to be a good boy and to learn hard to be a prominent person in future.
In response, the boy told the President, "You are Asomdweehene. Please, try and stay so".