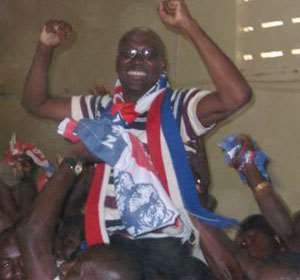 Alfred Thompson carried by his supporters after the declaration
Some New Patriotic Party (NPP) gurus in the Central Region had the shock of their lives when they lost the parliamentary primaries conducted over the weekend in all constituencies.
Four leading members of the party out of 52 aspirants lost to new entrants.
They include Dr. Arthur Kennedy, who contested the Abura-Asebu-Kwamankese (AAK) seat, former Member of Parliament (MP) for Cape Coast, Christine Churcher and incumbent MP for Twifo-Hemang Lower Denkyira (THLD), Rev. Benjamin Donkoh and former MP of Gomoa East, Samuel Quarm.
DAILY GUIDE observed that the disappointed party gurus called their drivers to pick them up immediately the ballot papers were counted while others were nowhere to be found after the counting.
In Cape Coast, Madam Churcher was spotted in white attire awaiting the results but unfortunately she got up from the dais where all the five aspirants were seated and left the place.
She however congratulated the winner, Alfred Thompson and the other aspirants before leaving.
DAILY GUIDE observed that although Churcher's T-shirt was all over the place she lost by 50 votes.
In Abura-Asebu-Kwamankese Costituency, the former District Chief Executive (DCE) of the area, Job Acquah-Markin won the primaries due to his close interaction with the people at the grassroots.
Some of the delegates told DAILY GUIDE that Mr. Markin will make the 2012 campaign easy for them since he is loved by the people in the community due to his dedication to work when he was DCE.
'Arthur Kennedy after 2008 elections was bold enough to write a book titled, 'Sending the elephant into the bush' therefore he should be bold enough to write about his defeat after the primaries,' the delegates stated.
In the Twifo-Hemang Lower Denkyira Constituency, Rev. Benjamin Donkor was accused of relating poorly with his people.
They claimed that he will not help the NPP to win the 2012 elections if they re-elect him.
This, according to the delegates, influenced them to vote against him since they want to re-capture the seats.
There was peaceful primaries in the region due to the heavy downpour that preceded the voting across the 19 constituencies in the region.
In all, five out of the 52 aspirants were elected by popular acclamation.
They include the former Central Regional Minister, Stephen Nana Ato Arthur for the Komenda-Edina-Eguafo-Abrem (KEEA), incumbent MP for Assin North, Kennedy Agyapong, former Deputy Minister of Health, Abraham Dwuma Odoom and Ato Cudjoe in the Twifo Atti-Morkwa constituency.
 
Below is the breakdown of the results of the Central Regional NPP primaries.
 
Cape Coast Constituency
Christine Churcher 148
Alfred Kojo Thompson 198
Dr. Henrietta Abbani (Mrs) 163
Michael Arthur Dadzie 92
John Kwasi Sagoe 23
Total vote cast 626
 
Ajumako Enyan Essiem Constituency
Romeo Aboagye 133
Appiah Mensah 28
Albert Ato Quainoo 284
John Kobina Amissah 124
Total vote cast 569
Assin South Constituency
Prof. Dominic K. Fobih 363
Joseph Damtse 126
Total vote cast 489
 
Asikuma Odoben Brakwa Constituency
Anthony Effah 224
Emmanuel Adjei Domson 178
Godwyll Ansah 96
Total vote cast 498
 
Upper Denkyira West Constituency
Betty Oppong 84
Benjamin Kofi Ayeh 198
Total vote cast 282
 
Upper Denkyira East Constituency
Quaicoe Peter Kofi 119
Nana Amoako 434
Total vote cast 553
 
Agona West Constituency
Mrs. Cynthia Morrison 96
Thomas Kwesi Asante 26
Richard Andam 57
Hon. Samuel Obodai 199
Frederick Ebo Selby 193
Total vote cast 571
 
Twifo-Hemang Lower Denkyira Constituency
Bright Wereko Brobbey 73
Lawrence Agyinsem 169
Benjamin Donkor Bimpong 60
Total vote cast 302
 
Gomoa West Constituency
Abban A. Kodwo Kom 204
Fred Oscar Abban 34
Edwin Abakah Williams 333
Total vote cast 571
 
Gomoa East Constituency
Richard Sam Quarm 105
Kojo Asemanyi 31
Kingston K. Ebuako Atta 55
Dr. Edward Nana Cudjoe 192
David Forster-Forson 22
Mcjewells J. Annan 45
Total vote cast 450
 
Mfantseman West Constituency
Ralph Inkoom 21
Stephen Asamoah Boateng 643
Total vote cast 664
 
Abura Asebu Kwamankese Constituency
Kofi Abbew Nkrumah 130
Job Acquah-Markin 299
Dr. Kobina Arthur Kennedy 159
Total vote cast 588
Effutu Constituency
Victor Yankson 34
Alexander Afenyo-Markin 209
Total vote cast 243
 
Awutu Senya Constituency
Mrs. Mavis Hawa Koomson 307
Oppey Abbey 158
Mr. Justice Quaye 110
Patrick Kwabena Amoako 8
Total vote cast 583
From Sarah Afful & Desmond K. Dapaah, Cape Coast