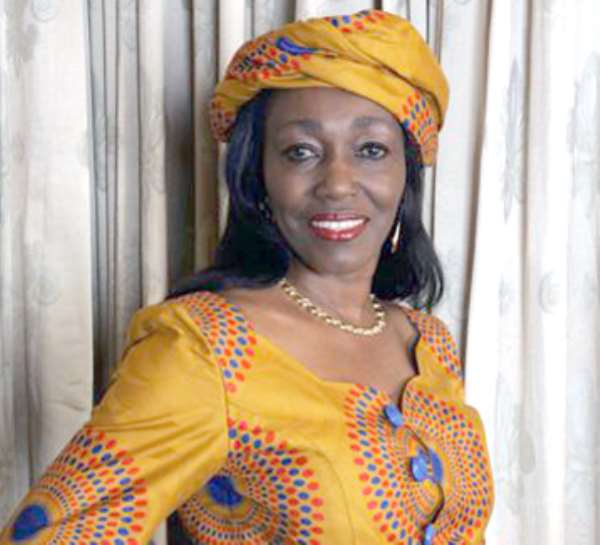 BATTLE READY! Nana Konadu Agyeman Rawlings
LIVE BRASS band music will this morning lead a street procession from the Ridge office of the 31st December Women's Movement, all the way to the headquarters of the National Democratic Congress (NDC) at Kokomlemle in Accra where Nana Konadu Agyeman Rawlings picks her nomination forms for the party's presidential primaries slated for July 8-10 in Sunyani.
Meanwhile, information reaching DAILY GUIDE indicates that President Mills is also expected to pick up his nomination forms today.
The die is cast for the former First Lady in her desire to become the NDC's Presidential candidate for 2012 as she launches her flag-bearership campaign tomorrow at the Accra International Conference Center at 9:30.
Reports say Mrs. Rawlings has already shipped in a fleet of 4×4 cross country vehicles which have been branded with her 2012 campaign posters. The brand new campaign vehicles are said to be over twenty in number and a few more are still expected.
She has also recorded her official campaign song and printed her campaign T-shirts and posters. The campaign T-shirts bear a smiling photograph of Mrs. Rawlings wearing her hallmark red lipstick. The front has the caption 'Our Last Chance…The Great Hope' and on the back is the inscription 'Be Bold- Spirit of the Nation.'
DAILY GUIDE has been told that though the initial plan was for members of the Nana Konadu for President 2012 Campaign Team to pick the nomination forms on her behalf, there was a last minute change of mind and it was decided she should go for the forms in person, since the party might not recognize the group.
Her campaign team has meanwhile extended invitation to NDC party supporters, sympathizers, women groups, youth groups, well wishers and the general public to tomorrow's launch.
Meanwhile, today's procession is expected to be attended mainly by members of the 31st December Women's Movement who would be wearing Nana Konadu-branded T-shirts and their usual red berets.
It is also expected that the presence of Mrs. Rawlings on the streets, accompanied by a brass band and dancing women in red berets, will attract some curious crowd.
Checks from Mrs. Rawlings's campaign team could not confirm which NDC notables would accompany her to pick the nomination forms or attend tomorrow's campaign launch.
It was also not certain whether or not former President Rawlings would accompany his sweetheart to both events.
He was however present when she recently told the party's Council of Elders that she would contest President Atta Mills at the presidential primaries.
Nana Konadu, even before the NDC opened nomination for its flag-bearer aspirants, jumped the gun and launched a full-blast campaign.
Before she resigned her position as First National Vice Chairperson of the party, Mrs. Rawlings toured several towns and villages across the regions to galvanize support for her bid.
She has campaigned indirectly under the cloak of a youth group calling itself Friends of Nana Konadu Agyeman Rawlings (FONKAR), making it almost impossible for the party to place sanctions on her.
FONKAR spokespersons have on countless occasions declared support for the former First Lady and even threatened to oust her from the party if she declined to contest the flagbearer position.
Aside launching an official campaign website for the Nana Konadu 2012 presidential bid, FONKAR splashed her campaign posters across all capital cities and major towns nationwide.
The group has been very critical of and almost insulting to President Mills.
Several persons who have donated to FONKAR either in cash or in kind have received letters of appreciation that had what is believed to be the true signature of Nana Konadu.
By Halifax Ansah-Addo