Dynamic Keep-Fit Club cleans Ofankor market to mark May Day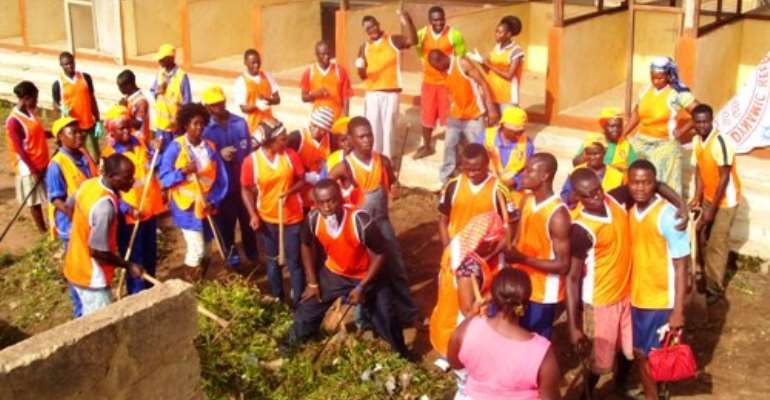 As part of the May Day public holiday celebrations, the Dynamic Keep fit Club based in Ofankor has organized a cleanup exercise at the Ofankor new market in Accra. It was organized in partnership with Zoomlion Company limited and the Market Women Association.
The president of the Dynamic keep Fit Club, Mr. Emmanuel Nkrumah, said, though the youth could have resorted to some fun activities during the public holiday, they preferred undertaking the cleanup exercise at the only market for residents in and around Ofankor, Lomnava, Asonfan, Capital Hills and Omanjor.
He said the government invested a lot of resources into building the market facilities for the communities; therefore, it is the prime responsibility of the residents, especially the youth, to clean and maintain it to enable the government use its inadequate resources to provide the needs of other communities and carryout other development projects.
The Dynamic Keep fit Club according to Mr. Nkrumah formed only two months ago has grown to a membership of 120 and still growing.
He said the club was formed with the objectives of organizing jogging to keep the youth fit and healthy; organizing clean up exercises to improve sanitation system in the community; promoting unity and peace among the youth in the community and at the same time to nurture members to become good leaders.
"Membership of this club comprises the youth, children, men and women residing in the area with occasional sponsorship from Agya Appiah Company Limited, Vista financial services and Fighters Energy Drink," he added.