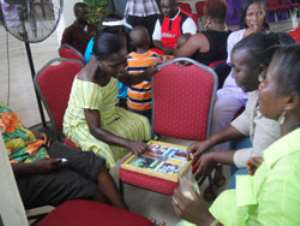 Some member of the congregation playing Ludo
As many Easter Monday holiday makers trooped to the various beaches in the capital to make merry and dance, members of the Action Worshipping Center (AWC) on the other hand, decided to make their own small world on the church's premises.
The church created a colourful atmosphere and games suited for both the young and old.
These games include pull bar, cards, ludo, oware, scrabble and table tennis.
There was also a musical chairs competition for children, singles and married couples, alongside bouncing castles, video games, train, pick and act, and riddles.
These creative activities by the church provided a platform for releasing pressure and brought back good memories to the old, while the children mingled to learn and make new friends.
The fun fair did not only attract church members, but many from nearby communities, who came to mingle and build contacts and bridges.
The day was also marked with love and affection, as many shared food and drinks with others who did not have.