'Aboakyer festival not called off'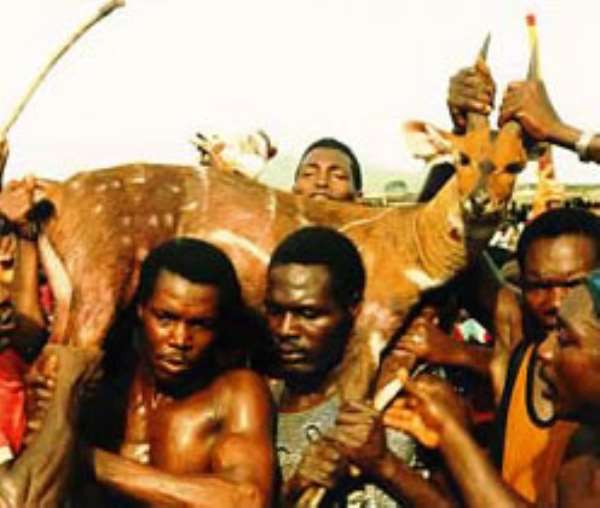 Nothing will disrupted the celebration of the festival, the chiefs say

Traditional authorities in the Effutu Traditional Area have discounted allegations that this year's Aboakyer festival has been called off.
A high-powered delegation from the Effutu Traditional Council was at the offices of the Graphic Communications Group Limited (GCGL) in Cape Coast to present a statement declaring categorically that the festival would come off as initially advertised.
It said the resolution was reached after an emergency Regional Security Council meeting and another meeting with the President of the Central Regional House of Chiefs, Daasebre Kwebu Ewusi, on matters relating to the festival.
The Tufuhen of the Effutu Traditional Area, Neenyi Otubua Siripi, who signed the statement, said in consultation with all stakeholders, the planning committee members were selected from identifiable bodies, adding that various reports in the media that the festival had been called off exposed the sinister motives of opponents of the festival.
"Effutus and the whole world are being made to believe lies and falsities that the Aboakyer is for the Chief of Winneba," he said, adding that his reason for the cancellation was insecurity.
Neenyi Siripi indicated that the festival was for the people of the area and that they, as the custodians of Effutu traditions and customs, would ensure that nothing disrupted the celebration of the festival.
The Otuano Ebusuapanyin of the Effutu Traditional Area, Neenyi Bondzie Enyinam, said the festival brought a lot of people to the area; a development which boosted the socio-economic lives of the people of the, area.
He said all security measures had been put in place to ensure that the festival would be peaceful and successful.
The delegation included Obaatan Kwesi Annah Sekun of the Tuafo No.1 Asafo; Obaatan Kweku Baiden of the Dentsefu No.2 Asafo; Safohen Essiful Amantra of the Dentsefo No.2; Neenyi Kofi Tekyi VI, the Nifahen of the Effutu Traditional Area, and Nenyi Bondzie.
Others were Nana Amponsah Attah, Effutu Atekyedo Odikro; Supi Kojo Edu of the Tuafo No.1 Asafo and Supi Kwesi.