Ghana's Emerging Oil Economy: - the Good, the Bad and the Ugly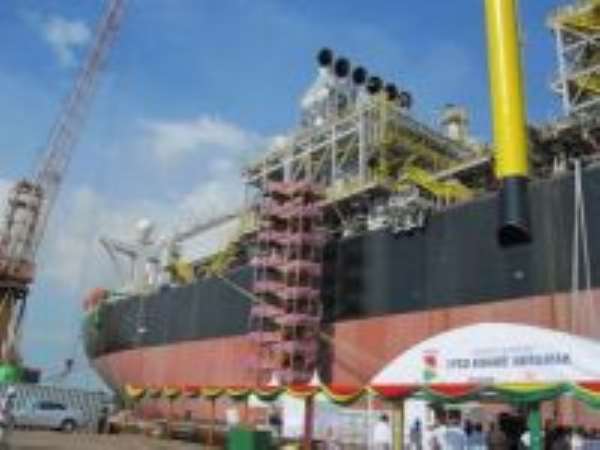 Author: Nana Adjoa Hackman
Enter December 15, 2010, commercial production of oil from Ghana's Jubilee fields commences. The much awaited event is heralded by Ghanaians with much joy and hope…hope for an improvement in the general welfare and living standards of the average Ghanaian.
Current production levels from the oil field are estimated to be approximately 55,000 barrels per day, a figure which is expected to more than double to 120,000 barrels per day within six months after the commencement of production.
Having joined the league of oil producing nations (although on a very modest scale), Ghana is expected to earn an additional four hundred million dollars (US$4,000,000.00) in this first year of production. This would complement income from the nation's traditional income earners, cocoa, gold, timber, diamond, bauxite, manganese, aluminum, etc. The government projects that the additional income would move the country's economic growth rate from 5% in 2010 to 12% this year, 2011.
That said and done, the good thing in this writer's opinion is that Ghana is starting off with a relatively diversified economy. Although not much can be said about Ghana's manufacturing sector, agriculture accounts for 35% of GDP, the services sector accounting for 50%. There is also a richly diverse natural resource base consisting of gold, diamond, manganese, bauxite etc that fetch the country a substantial amount of foreign exchange. Also in recent times, there has been an impressive growth in earnings from the non-traditional export sector which covers citrus, pineapples, garments, textiles, handicrafts etc. compared to these other income earners, the current revenue from oil is approximately 6% of the total annual revenue for Ghana.
This is in direct contrast to the situation in other oil producing African countries which are almost totally dependent on oil revenue. Nigeria for instance earns 92% of its revenue from oil, while Angola's oil revenue forms almost 100% of its total revenue. The finite nature of the oil resource, coupled with frequent shocks associated with the fluctuating world market price for oil makes this a very risky position for any country to be in.
Ghana must be minded that at the time of Nigeria's first oil discovery in 1960, the contribution of agriculture to its economy was 63%. Due to neglect however, the sector's contribution to Nigeria's annual revenue is now in single digits. Thought the country has reserves of bitumen, tin, bauxite, iron ore and gold which are potential income earners, Nigeria has not invested into developing these areas. As a result of neglect and records of massive corruption, investment outside the petroleum industry in Nigeria is minimal.
In the case of Angola, the country is recorded as having one of the fastest growing economies in the world. This not withstanding, due to the almost total dependence of the economy on oil, the country risks the negative consequences of a slump in oil prices. There is also evidence of strategic efforts to diversify the country's economy by developing other sectors. This homogeneous economy, though growing at a fast rate, is likely to collapse when faced with declining oil resources.
As the fun fair surrounding our own discovery and production of oil continues, we must as a matter of urgency prioritize efforts to deepen our economic diversification. It is only in doing so that we can achieve sustainable economic growth in the true sense. Government must see the need to invest in infrastructure that would aid the growth of the agric sector. Infrastructure such as irrigation systems, and factories to process some of our major farm products for export, giving added value to what we already have.
A good starting point would be to develop a petro-chemical industry leveraged on our oil and natural gas resources. A petro-chemical industry is one that produces chemicals using oil and natural gas as raw materials. A petrochemical plant may produce chemicals in their basic or raw form such as ethylene, propylene, benzene, toluene and xylene isomers. These primary products can be used to feed a secondary petrochemical industry which would then convert them into industrial materials or products for use by other industries or may process them into consumer products.
A petrochemical industry opens a window into the manufacturing of a wide variety of products which are useful in our every day lives. These include plastic products, synthetic textiles, detergents, pharmaceuticals, car tyres, inks and dyes, fertilizers, paints, engine coolants and lubricants etc.
The petrochemical industry has been the backbone for the growth of many of the world's strongest economies today. Notable among these is the United States of America. Today, the world's largest petrochemical industries are found in the USA and Western Europe. Other countries like Canada, Saudi Arabia and India also have strong petrochemical industries. A petrochemical plant in Saudi Arabia

Not only would such an industry create jobs, it would also ensure added value to our oil and natural gas resources, both for domestic use and for export. To say the least, it would create the platform for the much needed growth of our industrial and manufacturing sector and put our country on track for a transformation from the class of developing or third world countries into the category of developed or industrialized nations.

The Author is the COO of Entelligentsia Consult Limited, a leading consultancy firm in Accra, specializing in the Energy and Petroleum sectors.