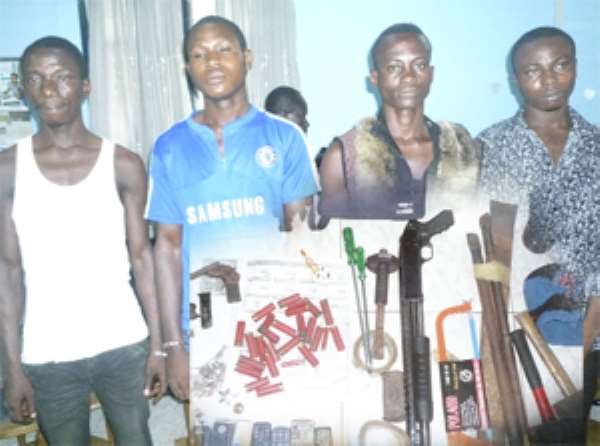 The suspected robbers. INSET: Items retrieved from them
Six out of twelve foreigners including an ex-Nigerian soldier and a policeman, who are alleged to be behind various robberies at filling stations within Accra, Tema and Kasoa areas, have been arrested.
They are Merlin Joseph aka Bright- 23, Eric Uda Madusbuchi aka No One Is God- 20, Okechukwu aka Joseph Oti- 22, Ihedi Kenneth aka Fella- 29 and their ammunition keepers Hope and Charles.
Those at large are Obina,  leader of the gang, Okosisi, an ex-Nigerian soldier and a police officer who is yet to be identified, Sonny Good and Bad, and Big Obina aka Wabinu.
Items retrieved from the robbers include a fully-loaded pump action gun, a foreign pistol with five rounds of ammunitions, two locally-made pistols, three hammers, sellotapes, hacksaw blade, twenty cartridges, three garden gun cartridges and seven assorted mobile phones.
Briefing the media, the Accra Regional Police Commander, DCOP Rose Bio Atingah, together with her deputy, ACP C.T. Yohuno and Superintendent Frank Adufati, the Regional Crime Officer, stated that for some time now, some filling stations in Kasoa, Accra and Tema were being robbed so the Police Administration circulated information to all regional commanders to be on the look-out for a gang of robbers, numbering between ten and twelve.She said the robbers were believed to be Nigerians who were behind the crime.
She noted that on Wednesday April 20, 2011, the police mounted an operation and arrested two of the robbers namely Merlin Joseph aka Bright and Maduabuchi Uda aka Eric at Budumburam Camp and they led the police to Kaneshie where two others, Kenneth Ihedi aka Fella and Okechukwu Oti, were arrested and their weapons and accoutrements retrieved.
On April 24, 2011, upon a tip off, Charles and Hope were also arrested.
She noted that upon interrogation, they confessed to all filling station robberies in Tema, Accra, and Kasoa but added that their other accomplices, after committing the act, escaped to Nigeria.
DCOP Rose Bio Atinga averred that the modus operandi of this gang was that they hid their weapons in a florescent tube box, sellotaped it as if they were masons or tillers carrying their tools looking for jobs and returning from work.
'They capture the security men on duty at the filling stations, remove their uniforms and some of their gang members wear the uniforms to patrol the streets or yards as if nothing is happening while their accomplices are left to break the safes of the companies.
'At other times, they wear the uniforms of the pump attendants and wave off clients under the pretest that there is no fuel while the others continue with the robbing,' she stated.
The Regional Commander stated that Obina, the team leader, and Oko Sisi were still hiding in the country while the ex-Nigerian policeman and ex-military officer were hiding in Nigeria.
Giving an account of places robbed by the gang, the Accra Regional Police Commander said on April 6, 2011, the robbers, numbering ten, attacked a Star Oil Filling Station at Gomoa Budumburam No-2 where they robbed the filling station of an amount of GH¢2500, six mobile phones, and snatched one pump action gun from the security man on duty.
'They also removed the pump attendants' uniforms, wore their uniforms to inform prospective buyers of fuel that there was no fuel while their accomplices robbed the station,' she added.
On April 9, 2011, the same gang attacked and robbed Allied Oil Filling Station on the Aflao road, broke into the managing director's office, took the pump attendant hostage and took two days' sales running into thousands of Ghana cedis.
They also robbed two filling stations at Community One and UBI filling station at Tema where they took away large sums of money on April 12, and 14, 2011 respectively.
She stated that the same gang also attacked a Shell Filling Station near Tema Technical School around 2am, took the security man hostage, removed his uniform and tied him with a rope while one put on the uniform to patrol the area as if nothing was happening.
They managed to steal about GH¢50,000.
Other places include Tema Steel Company Limited, Odorkor Excel Filling Station and Takoradi Filling Station, which were robbed recently.
DCOP Atinga cautioned all filling station owners not to keep large sums of money at the station.
'Foreigners who want to use Ghana as their safe havens for their criminal activities should be wary. Our investigation also reveals that due to the cheap accommodation at Gomoa Budumburam camp, all foreigners who come to Ghana with the intent to rob or commit other crimes hide at the camp and they commute to and from the camp to commit crimes.'
She entreated landlords and supervisors at the camp and communities around to be careful about people who came there for accommodation and also to report any suspicious characters to the police.
By Linda Tenyah