Four burnt to death at Obuasi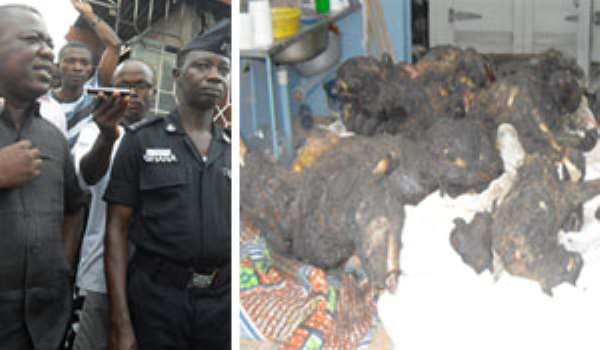 MCE John Alexander Ackon and ASP Matthew Asante, Municipal Police Commander(left) ,The charred remains of the four deceased persons (right)

Four persons were burnt to death at Obuasi yesterday, when fire gutted a house at Kokoteasua, a suburb of the town. The cause of the fire, which started around 4:00 a.m., was not immediately known, but eye-witnesses attributed it to an electrical fault.
The charred bodies, including a 30-year old woman, Alice Boatemaa Agyemang, and her two-year-old son, Alexander Ohemeng Agyeman, have been deposited at the Edwin Cade Hospital.
The other two dead persons, whose names were only given as Comfort and Joyce, were said to be visitors who passed the night at the house.
Fire fighters from Anglo Gold Ashanti (AGA) and the Obuasi Office of the Ghana National Fire Service who rushed to the scene to help douse the fire, had it tough getting to the building due to the haphazard siting of kiosks in the area.
One of the survivors, Mr. Samuel K. Nduro, who briefed the press on the incident, said they were in their respective rooms, when they suddenly heard people screaming 'fire, fire', and before they could realise it, the fire had engulfed the entire building. He thanked God for his life stressing, 'I believe it is God who redeemed me from this mess.'
Duty Officer Patrick Nketia, who led the seven-man fire fighting team, out of frustration, appealed to the Obuasi Municipal Assembly to help ensure proper the planning of the municipality to avoid future catastrophes.
Other members of the fire fighters included Duty Officer David Adjetey, Ben Armano, Ofosu Appiah and Samuel Gyamerah, all of the Ghana National Fire Service. The rest were Messrs Kenneth Yellow and Abudu Sahana of Anglo Gold Ashanti (AGA).
The Member of Parliament (MP) for Obuasi, Mr. Edward Ennin, the Obuasi Municipal Chief Executive (MCE), Mr. John Alexander, and the Ashanti Regional Coordinator of the National Disaster Management Organisation (NADMO), Mrs. Vivian Akumia, have since visited the scene.
The MCE described the incident as very disturbing, stressing: 'This is very disturbing news, taking into account the number of people who have lost their lives.'
Mrs. Akumia added her voice on the need for the proper planning of the area, and also cautioned against the use of gas in the bedroom.
The Obuasi Municipal Commander of Police, ASP Matthew Asante, later told the press that his outfit would go into the incident to find out the possible cause of the fire.
At the time of filing this report, the city authorities were meeting to discus how best they could come to the aid of the surviving victims.