Breaking News: MRS. RAWLINGS: "I WILL ABSOLUTELY RUN FOR PRESIDENT".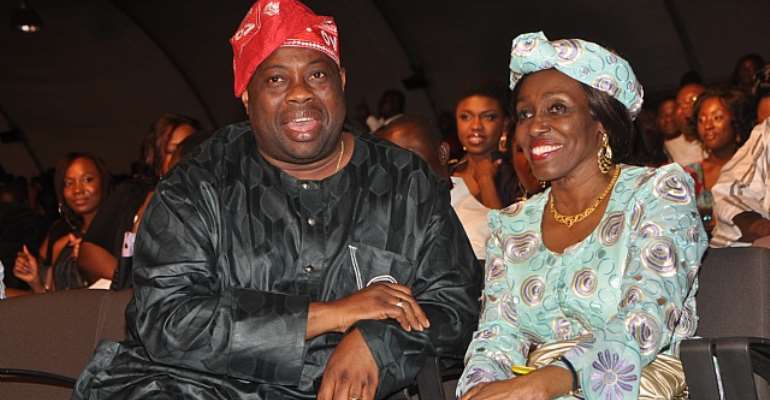 The former first lady has sought an ENTERTAINMENT PLATFORM to offer an official 'yes' to her most important political QUESTION.
Since last year, when news broke about Nana Konadu Agyemang-Rawlings' willingness to offer the stiffest ever anticipated opposition to National Democratic Congress (NDC) elected President J.E.A Mills' in the next party primaries, thereby denying him a dream second term, the iron-lady has been unusually quiet and allowing so called foot soldiers and [political] newspapers do the talk; while she did PARTYING. [Or was she rather courting the showbiz industry all along?]
Since last year, Hi Newspaper has spotted the Founder of the defunct 31st December Movement at more than 7 high profile entertainment functions- including Adom FM's "Adom Praiz with Cece Winans", with her ex-President husband, J.J Rawlings. On April 9, 2011, she was at the Ghana Music Awards; and on Good Friday, April 22, was spotted at the Famous5 concert at the Accra Int. Conference Centre.
At this very last event, the former first Lady said in public, on record, for the first time that she would be seeking a spot at the NDC Primaries to represent the party (formed by his husband) at the 2012 General elections.
The party-loving woman was in her joyous mood throughout the night, dancing to performances by Kwabena Kwabena, No Tribe and Amakye Dede, and deafeningly laughing to jokes by MC Kwame Sefa-Kayi and even sharing the "stage" with Amakye Dede, his usual dance-suspect.
When Nana Konadu had finished dancing with Amakye Dede and taken her seat, Kwame Sefa-Kayi, in his usual picking-on-celebrities style, asked Mrs. Rawlings if she would be running against the party's fave at the upcoming NDC Presidential primaries. Her initial "can you take people serious?" look immediately turned into "I think I can use this flexible, less probing audience" look. A four-second hesitation was all she could manage for Kwami Sefa Kayi, a host with over 16 years experience in the probing-business.
Chairman (as his guests on Peace FM's morning show, Kokrokoo refer to him) knew exactly how to get this very big answer, and casually so, even if loads of hungry political Journalists have failed to extract same info from Mrs. Konadu.
When Kwami Sefa-Kayi changed strategies and took the microphone, terrorisingly, closer to Mrs. Rawlings, she answered: "ABSOLUTELY" with a huge smile. And immediately we have earned an official post-Easter word of the month- "ABSOLUTELY, I will".
After refusing to answer that question on various platforms including interviews on big radio and TV shows, she finally did at a music concert giving value to suggestions that Ghana's most active First Lady may be employing the services of musicians (or entertainment people) for her campaign should she go pass the Primaries scheduled for July.
And if she gets there, Amakye Dede would be the first to have sent a public plea to the wife of the two term president to support the entertainment industry.
"We want you to get the government interested in the creative industry", Amakye Dede told Mrs. Rawlings. He called on Mrs. Rawlings to champion the cause of musicians in government since, according to him, music had a potential on bringing income to the country.
It won't be surprising if Mrs. Rawlings uses music as her major campaign tool since she is a known music lover. She has reportedly said her husband, former President Rawlings, used to take her to the disco in their youth days to have fun though Mr. Rawlings never liked 'jaming'. At various functions, she is almost always seen moving her body- even at major NDC events. At the NDC fundraising dinner in 2007 she was the star of the night as she spent hours on the dance floor 'boogeying' with the then NDC presidential hopefuls- President John Atta-Mills, Ekow Spio-Garbrah and Eddie Annan.
And when musician Lucky Mensah was allegedly dumped by her party after publicly supporting Prez Atta Mills, musically, into power, Mrs. Rawlings was said to have personally paid the musician's trip abroad.