Economist Proposes Ban On Mining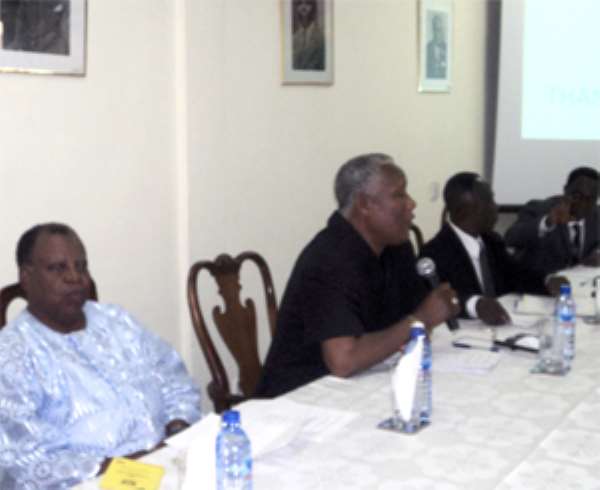 Dignitaries at the IEA forum (L to R): Nana Dr. SKB Asante, ET Mensah, Dr. JK Kwakye and Dr. Kwadwo Tutu (main speaker)
A Senior Economist at the Institute of Economic Affairs (IEA), Dr.  Kwadwo Tutu is proposing a ban on mining if activities of mining companies and others in the extractive sector do not aid or improve the country's economy.
'If you factor the environmental cost into the activities of mining companies it is better to close the mines. We should confront the investors in the extractive sector because they are just destroying the environment without any improvement in our economy. They do not support any effort towards sustainable development.'
Dr. Tutu was delivering a paper on Tuesday in Accra titled, 'Towards a long-term national development plan for sustainable development.'
The lecture was organized by the IEA, a policy think tank as part of broad consultations to ensure that they make inputs into the on-going Constitutional Review process.
The Senior Economist said Ghana receives only 22 per cent of the about $3 billion worth of gold produced in the country annually, noting 'if we do not get about 66 per cent of gold produced to boost the economy we have no business allowing the mining companies and others in the extractive sector to operate.
'If you have policies that allow the extractive sector to cut down all your forest without taking into account how it will benefit your economy and affect your environment negatively then there is no need to allow them to operate.'
He said Ghana's economy has not changed structurally due to the lack of long-term development strategy or plan for the country, adding 'there is no link between the extractive sector and the main economy.'
He said any development plan formulated should lead to sustainable development, which should also be nationally owned by all.
'Close to four decades this nation has seen short and medium term strategies that in the long run have led us to a dislocated economy. There is no structure in the economy. We do not see where we are going as a nation especially when we have struck oil.'
He said the time has come for the government to empower and strengthen the National Development Planning Commission (NDPC) to help implement long term development plans of the nation.
Enoch Teye Mensah, Minister of Employment and Social Welfare and Member of Parliament (MP) for Ningo Prampram, who chaired the forum, said government must strengthen its manpower and human resources to be able to harness the numerous resources of the country.'
'We are sitting on so much resource which we have not been able to harness. We need to mobilize all our resources to be able to implement strategies for national development.'
Mike Hammah, Minister for Lands, Forestry and natural Resources and MP for Winneba, said there was the need to increase local content in the mining sector so that the country could benefit more.
By William Yaw Owusu