Hepatitis 'B' Leader in Communicable Diseases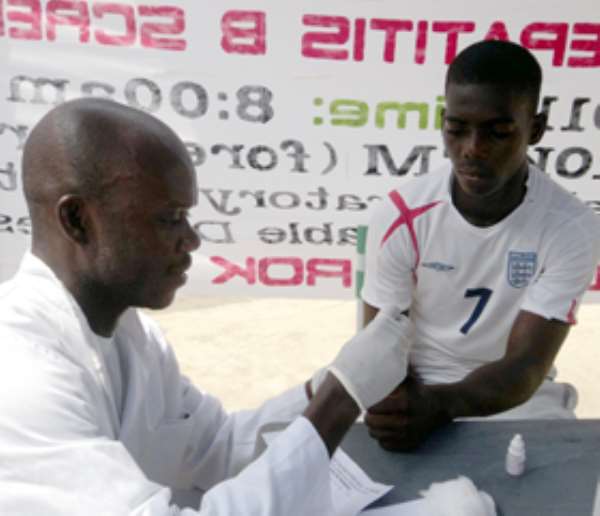 Mr. Asante-Kumah (L) taking someone through the screening process
PATRICK ASANTE-Kumah, the Western Regional Chairman of the Ghana Association of Biomedical Laboratory Scientists has disclosed that Hepatitis 'B' is the leading communicable disease in the country.
He noted that the disease contributed to about 16 per cent of ante-natal cases recorded at the Effia-Nkwanta Regional Hospital in Sekondi.
He indicated that pregnant women were particularly at risk due to the infectious nature of the disease adding that those who tested positive were undergoing counseling and treatment as a measure to manage the disease and prevent mother-to-child transmission.
Mr. Asante-Kumah who is also a biomedical scientist at the Effia-Nkwanta Hospital disclosed these at a free Hepatitis 'B' screening exercise for the public as part of programmes marking International Laboratory Day.
The screening exercise which was in collaboration with ROK Fm , a private radio station in Takoradi was attended by people from all walks of life in the Sekondi-Takoradi metropolis and beyond.
International Laboratory Day which was also celebrated across the globe was on the theme: 'The Role of Biomedical Laboratory Scientists in the Global Management of Communicable Diseases."
Mr. Asante-Kumah mentioned that body fluids such as vaginal excretions, saliva, sperm and the sharing of razor blades, spoons and other items with infected persons were some of the ways through which the disease could be transmitted.
The biochemist pointed out that Hepatitis 'B' was similar to HIV/AIDS but the communicable disease had a vaccine which could protect an individual from getting infected.
Nathaniel Charway, Acting Events Coordinator of ROK Fm explained that the station's collaboration with the association in the health screening exercise was part of its corporate social responsibility.
By Emmanuel Opoku