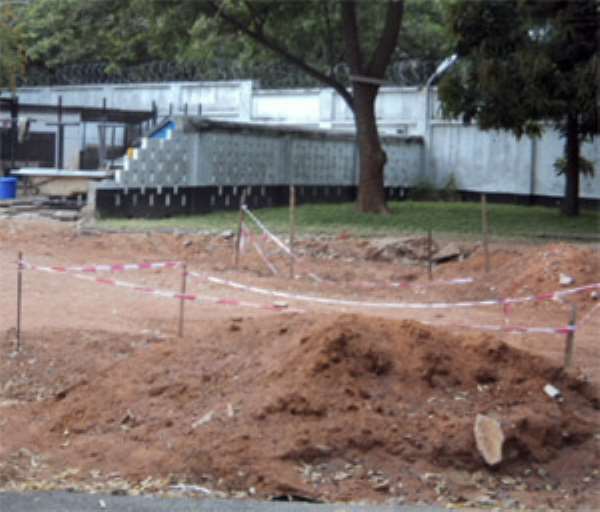 The virgin site for Rawlings new house
Former President Jerry John Rawlings and his family seem to have been left to their fate by the Mills administration.
More than a year after a raging inferno razed down their Ridge official residence, on February 14, 2010, government has done virtually nothing to rebuild the house in spite of earlier promises to reconstruct the house within time.
This has resulted in a situation where Mr Rawlings and the rest of his family currently live 'worlds apart'.
Whilst the former President currently lives and shuttles between Tefle near Sogakope in the Volta region and Accra, his wife Nana Konadu Agyeman Rawlings continues to perch at her mother's house at the Nyaniba estates in Osu together with one of their children, Yaa Asantewaa, in the absence of Kimathi, Ezenator and Amina who are said to be working outside the country.
DAILY GUIDE managed to visit the burnt down house, which shares a common and open wall with Mr Rawlings' office, somewhere last week to access the level of work going on there and realised that the rubbles had been razed down and flattened, with nothing in sight to show for an ongoing reconstruction work.
What currently remains at the site is a pen that houses the dogs of the Rawlingses, trees and a couple of humming birds that are being kept there, apart from the empty tents that used to provide shelter for Mr Rawlings' numerous vehicles.
Somewhere this year, a consultant to the construction firm in charge of reconstruction of the house said it would take a year to complete the project.
Spokesman for the Rawlings's who also doubles as General Secretary of the ruling party, Kofi Adams, does not equally know why the reconstruction work has taken that long to commence, though it has been awarded on contract.
He made this known DAILY GUIDE called on him to know what might have caused the delay in the construction of the building.
Information Minister John Tia has failed to respond to DAILY GUIDE's queries about the Rawlingses house.
When DAILY GUIDE first contacted the minister, his initial response was to rubbish the enquiries, saying that there were more important national issues and that the issue about Mr Rawlings's house had been over flogged.
He later had a change of heart and called to say that he be given time to make enquiries about the level of progress on the project and thus asked the reporter to give him a reminder on Monday April 4.
After giving him the reminder as scheduled, Mr Tia has since refused to answer his phone.
Key and influential members of the National Democratic Congress (NDC) believe this is part of a grand scheme by government and its functionaries to frustrate the former President because his wife has indicated her intention to contest incumbent President Mills in the upcoming flagbearership contest of the party.
But the Rawlingses have chosen to keep mum about the issue.
By Charles Takyi-Boadu